Display Rolex Watches Are Arriving At Authorized Dealers
It's official and the rumors are true. Rolex is stocking authorized dealers with display watches. This news should be welcomed for many Rolex enthusiasts. For some time now we've seen empty cases which takes away from the buying experience. It doesn't take long when consuming Rolex forums, blogs, or YouTube channels to find many angry customers who are frustrated with the brand and Rolex authorized dealers for having empty cases and zero watches available for show. That has now ended thankfully and give credit to Rolex for listening to their loyal community.
For more Rolex rumors, visit our Rolex 2022 Rumors List.
Which Rolex Dealers Are Receiving Exhibition Models
Rolex isn't making all their authorized dealers be a part of this experiment. From our understanding, this is a program that authorized dealers like Reis Nichols will have to opt into. We were informed that even if an authorized dealer wants to start displaying exhibition Rolex watches, it may take time to stock all the interested locations.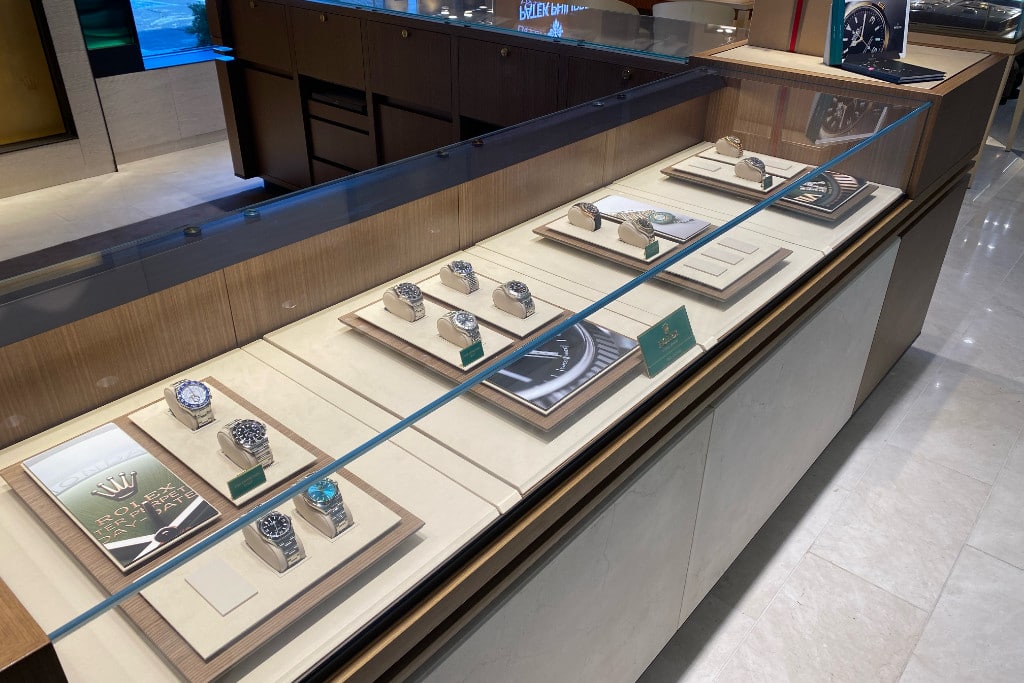 Are Rolex Display Watches For Sale
There are strict restrictions on Rolex authorized dealers regarding the sale of display or exhibition watches. It has been communicated to us that Rolex has gone as far as threatening dealer status if caught selling these demo watches.
As a Rolex fan this type of news should make you happy. Rolex is listening to its loyal fanbase and protecting your interests by going as far as being willing to end dealer relationships.
Which Rolex Display Watches Can You Expect To View At Authorized Dealers
When we visited Reis Nichols, who is currently participating in this experiment, we viewed 17 demo Rolex watches. They received one or more model of each collection. This type of display allocation will provide buyers who want to try on a collection to experience fit, style, and function in person before getting on the waitlist to purchase. Even though this will add a tremendous amount of work for authorized dealers, we applaud Rolex for making steps to improve the buying experience.
View our complete Guide To The Rolex Waitlist.
What You Need To Know About The New Rolex Display Watches
Before you visit your local Rolex authorized dealer, there are some things you need to know about the exhibition watches. The list below is to both support the local Rolex AD so they don't need to answer the same questions for each visit and for the buyer so you can have more time experiencing your potential new Rolex.
Rolex demonstration watches aren't for sale (strictly enforced by Rolex).
The watches are fitted with their appropriate movements.
Boxes were not sent with the display watches.
Warranty cards were not sent with the display watches.
Authorized dealers are facing strict penalties for selling these watches. Don't offend them by offering deals or bribes to buy them.