AP Royal Oak Review
Since 1972 the AP Royal Oak and its unique design have captivated watch enthusiasts with much admiration. What was originally an off the cuff last minute design developed by Gerald Genta, the AP Royal Oak quickly turned into an instant classic that many consider to be the pinnacle of watchmaking.
It wasn't only the design which flipped the watchmaking world on its head, it was the fact that in 1972 the AP Royal Oak became the first luxury steel sports watch. It's one of those things that we look back on and have a hard time believing but yes it took that long for a luxury watch manufacturer to develop the most popular type of watch in the world today, a luxury steel sports watch.
Audemar Piguet is one of the 3 main watchmaking houses in the world and the Royal Oak is what helped them cement their position on the throne. I have to admit there is a lot to love about this watch. For many it's the Grand Tapisserie guilloche dial, for others it's the octagonal case shape, and for many like me it's the integrated bracelet. Needless to say, the AP Royal Oak isn't short on things to love and what's most impressive is that this watch is unique. The AP Royal Oak isn't borrowing from other watches. It sets its own course and that has to be commended.
So what makes the AP Royal Oak so special? In our AP Royal Oak review we'll discuss the design, quality, value, and compare it to other notable brands.
AP Royal Oak Movements & In-House Calibres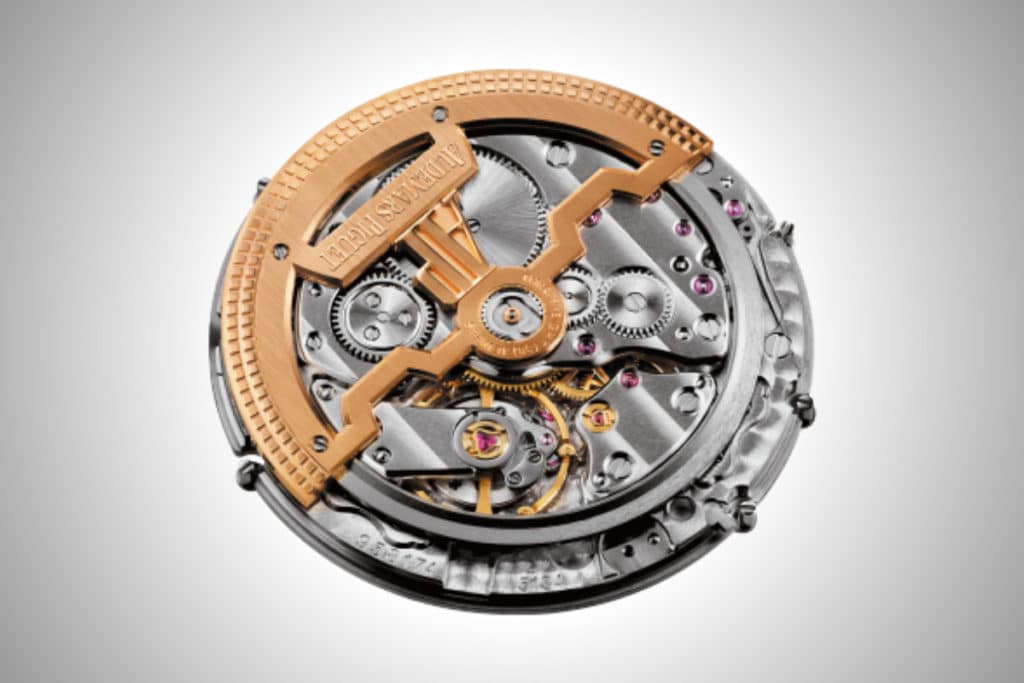 The AP Royal Oak collection has many different complications which require a handful of finely crafted in-house movements. Some are simple three hand movements and some take months to manufacture like the Grande Complication or Tourbillon.
Common characteristics of the AP Royal Oak movements are excellent power reserves, high degree of accuracy, they are executed to perfection for the desired complication(s), and every detail has a superior finish.
Below we'll list which calibres are housed in the different references of the AP Royal Oak collection.
Calibre 5134 – Ref 265740 (Perpetual Calendar)
Calibre 2885 – Ref 260651 (Grande Complication)
Calibre 2385 – Ref 26315 (Chronograph)
Calibre 2959 – Ref 26591 (Minute Repeater)
Calibre 2924 – Ref 26522 (Tourbillon Extra-Thin)
Guilloche Dial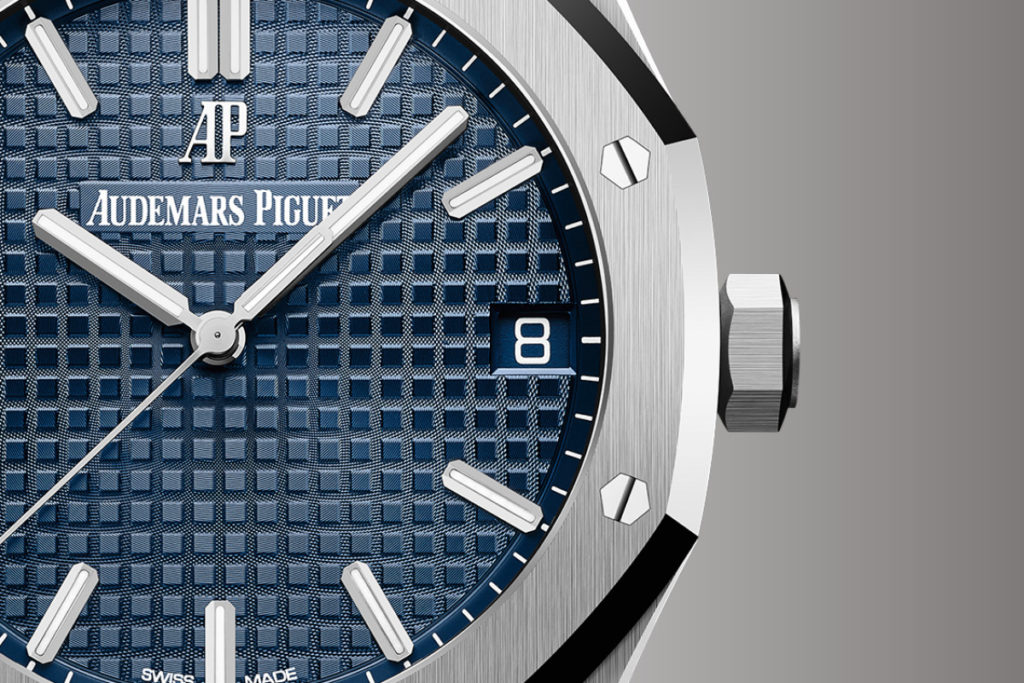 The guilloche dial of the AP Royal Oak is stunning and definitely one of its most recognizable / interesting design features. One can argue that the dial on the AP Royal Oak might be the single best dial in all of watchmaking. I for one think that it at least earns a spot in the top 5 with the AP Royal Oak Blue Dial being my favorite.
For those of you who may not know what a guilloche dial is, I'll give you a simple definition. A Guilloche Dial is a watch dial that is decorated with intricate geometric patterns that repeat across the surface. There is no strict shape or pattern to follow as long as it can repeat itself.
What many appreciate about the dial is that Audemar Piguet has perfectly blended beauty with function. The ornate dial doesn't take away from the watch's legibility but rather enhances it. Overall the perfect execution of the dial has played a major role in this watch's success.
Octagonal Case Design
It's safe to stick with what has always been successful but that isn't Audemar Piguet and that's definitely not the case with the AP Royal Oak. Before 1972 an octagonal case shape couldn't be found and if it was it was from a small niche watchmaker. To say that going with an outside the box case design paid off is an understatement. Since the inception of the AP Royal Oak, straight lines and octagonal cases have gone mainstream.
As much as watchmakers other than Audemar Piguet try to make this design their own, it's always hard pressed to not view these watches as imitators or homage watches.
Popular References
The current AP Royal Oak collection has 129 references. It would be too much to list all of them here but we do want to highlight some notable ones that are worth checking out.
AP Royal Oak Blue Dial Stainless Steel
AP Royal Oak Grande Complication
AP Royal Oak Perpetual Calendar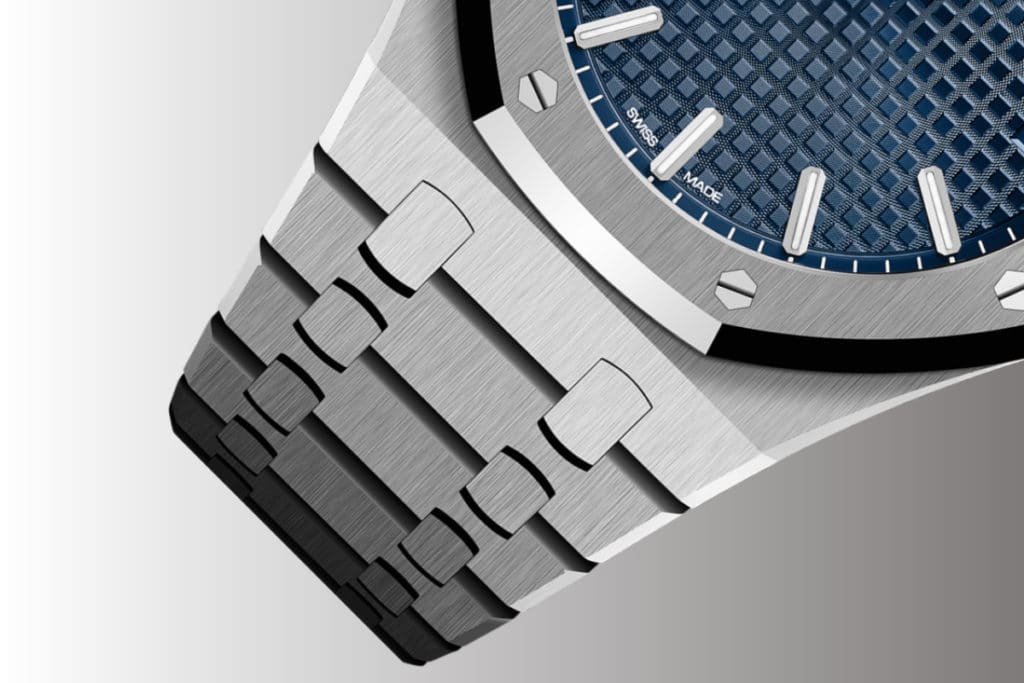 AP Royal Oak Pricing & Availability
The Royal Oak collection is available in stainless steel and precious metal with costs ranging from $21,000 – $100,000+ MSRP. Finding an AP Royal Oak may be a bit challenging. Audemar Piguet does not produce watches in large quantities and an abundance of work is still done by hand. What this means is that supply is low and demand is high. This fosters an aftermarket where the watches sell more pre-owned than they do at new.
What Users Ask The Most About The AP Royal Oak
Why Is AP Royal Oak So Expensive
Yes the Royal Oak does cost more than the average watch but I wouldn't use the term expensive. You get what you pay for and there is a lot of value with the AP Royal Oak. The reason why these watches have a higher price tag is because Audemar doesn't produce large quantities of watches so they need to sell them for more and also it takes longer to produce a single watch because of their hands on manufacturing process. Time is money and so is quality.
How Much Is AP Royal Oak Retail
The AP Royal Oak retail price varies within the collection. There are many different materials used in production and complications that are simple and complex. For most watches in the Royal Oak collection, retail prices range from $21,000 – $80,000.
Is AP Better Than Rolex
Although the answer to this is subjective because it's an opinion, most watch enthusiasts believe that AP is better than Rolex. Even though both manufactures produce amazing watches that are extremely accurate, Audemar dedicates more attention to detail and it really shows when both watches are side by side.
How Does The AP Royal Oak Compare To The Patek Philippe Nautilus
These two watches are actually quite similar to me. Both have unique designs and take luxury sport watches to the extreme. Overall I'd have to say they are about even.
Check out our full review of the Patek Philippe Nautilus collection.
What Is The Least Expensive AP Royal Oak
The least expensive mens AP Royal Oak is the stainless steel 37mm ref 15450. This reference costs $21,700 MSRP.