Rolex Raised Prices Yet Again In 2023
For the past two years, January 1st has marked a significant date on the Rolex calendar. That is the day that the annual price increase has been announced. Although it makes sense, we were a little surprised that this year it happened yet again. In fact, Rolex not increasing their prices was on our Rolex 2023 predictions list.
It's hard to fault Rolex for raising their prices considering that most of their watches sell more pre-owned than they do new. To be fair, the cost of most everything has risen in recent years and inflation has sent the world economy spiraling. The price increases for 2023 were not outrageous and leaned heavily toward the precious metal references. You can discover how much each reference and collection increased with our 2023 Price Increase Report.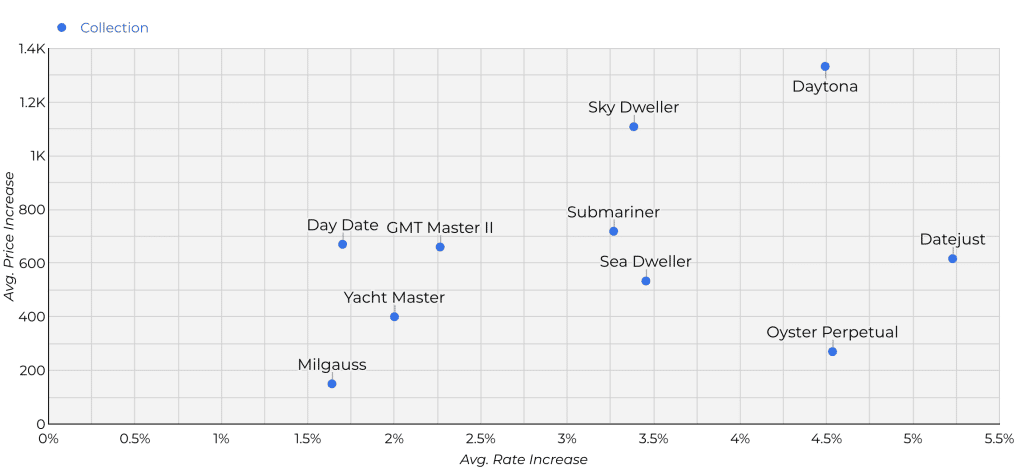 See the full report for the 2023 price increase
How Much Did Rolex Raise Their Prices
On average between all the collections, Rolex raised their prices in 2023 by 3.45% or $733 per reference. Two tone and sold gold references experienced the largest price increases while stainless steel references saw a slight increase.
Has Rolex Become Too Expensive
One can argue that the price of Rolex watches were already too expensive and with the most recent price increase, that maybe be even more so. Although they trade at a premium on the pre-owned market at the moment, we suspect that wont last for much longer. Rolex is producing more watches now and the prices over the last few years are making them harder to purchase. We fully expect that we'll soon see new models back in cases and waiting lists diminish, which might actually be what Rolex wants. They are essentially controlling their own supply and demand by making more watches and maximizing revenue.