Rolex Explorer II Review
If there was ever a watch in the Rolex Professional line that doesn't get the hype it deserves, it's the Rolex Explorer II White Dial. Often under overshadowed by the GMT Master, the Rolex Explorer II offers a true tool watch experience unrivaled by many.
In our Rolex Explorer II review, we'll showcase what makes this GMT watch so great and why its a companion for any adventure.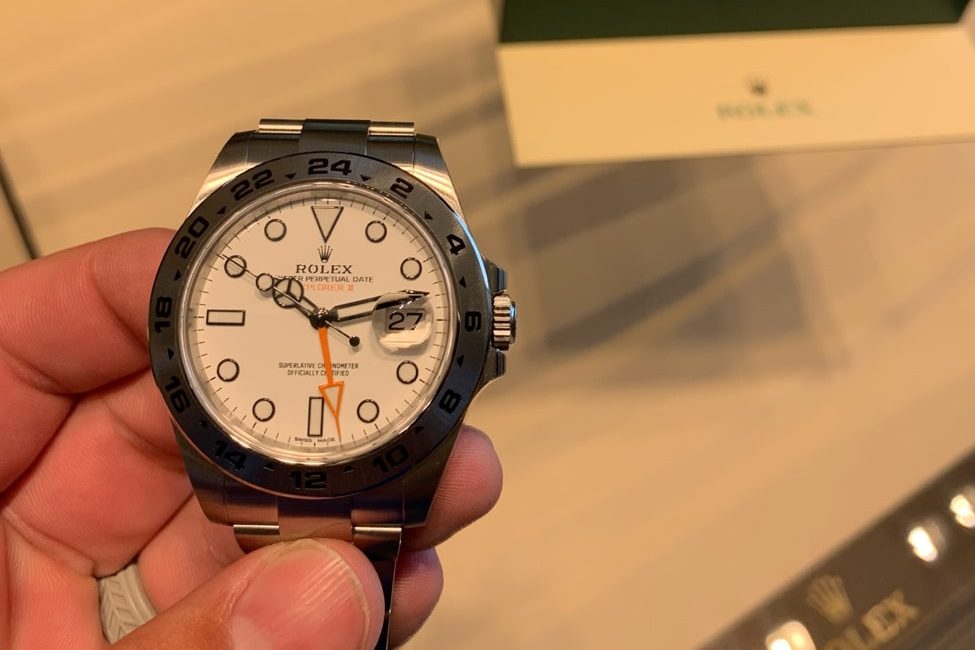 Rolex Explorer II Value
You can't do a Rolex Explorer II review without highlighting some of Explorer series amazing feats. Can you tell me the significance of Mt. Everest as it relates to this watch? The Rolex Explorer line was created after a British led expedition to Mt. Everest. The line started with the original Explorer. This first example was meant to be easily visible in extreme conditions. This was done by oversized numerical hour markers at the 3, 6, and 9 position. This original example was noted as the Rolex Explorer 1016. Like most things in life, the original was redesigned, perfected if you will. Jump forward to 1971 with the release of the Rolex 1655 which featured an oversized (at the time) 39 mm case and my personal favorite addition, a 24 hour fixed bezel.
Is the Rolex Explorer II a good investment? Find out with our Rolex Investment & Value Guide.
Rolex Explorer II New Releases
Continue forward to 1985 when the Rolex Explorer was again improved. This time, with the help of a larger case size (40 mm) and probably the most important, new movement Calibre 3085, which gave this watch the ability to move the 24-hour hand independently, thus making it a GMT watch.
There have obviously been numerous updates to the Rolex Explorer line, specifically the Explorer II. Early examples of the Rolex Explorer II only included a black dial. One of the most sought after vintage Rolex's out there is the Rolex Explorer II Ref 1655. This example features the black dial, larger case, 24 hour fixed bezel, and the orange GMT hand. I have to say, the way the orange hand stands out from the black dial….whew, nice job Rolex, a truly iconic example.
The Explorer continued to evolve. Along the way, Rolex gave it an updated dial and GMT hand. Que the Rolex 16570. This example was offered, for the first time, with a white dial. Among other changes, Rolex changed the GMT hand to red stick arrow, personally, not my favorite.
Let's continue to walk thru history with the Explorer II. Jump to 2011, this was the 40th anniversary for the Explorer II. What better way to celebrate than to make this thing bigger and better. The updates for its 40th birthday include larger case size (42 mm) and going back to the orange arrow GMT hand. The larger case provides more room on the dial, which allows for larger numerals, markings, etc. All of these feature inevitably lead to a cleaner and more easier to read dial.
The latest update also included an updated movement, the Calibre 3187. This however, is not a new movement by Rolex, only a new movement for this example. This movement though does justify the name, Explorer. The 3187 features Parachrom hairsprings and Paraflex absorbers. What does that mean, you ask? Well, simply put, this watch is meant to be beaten up, drug through the mud, summit mountains, and everything in between. It can handle a beating and continue to live up to its "Superlative Chronometer" status.
So what is Wrist Advisor's opinion on this undervalued Rolex model? Read below to find out.
Rolex Explorer II Wrist Shot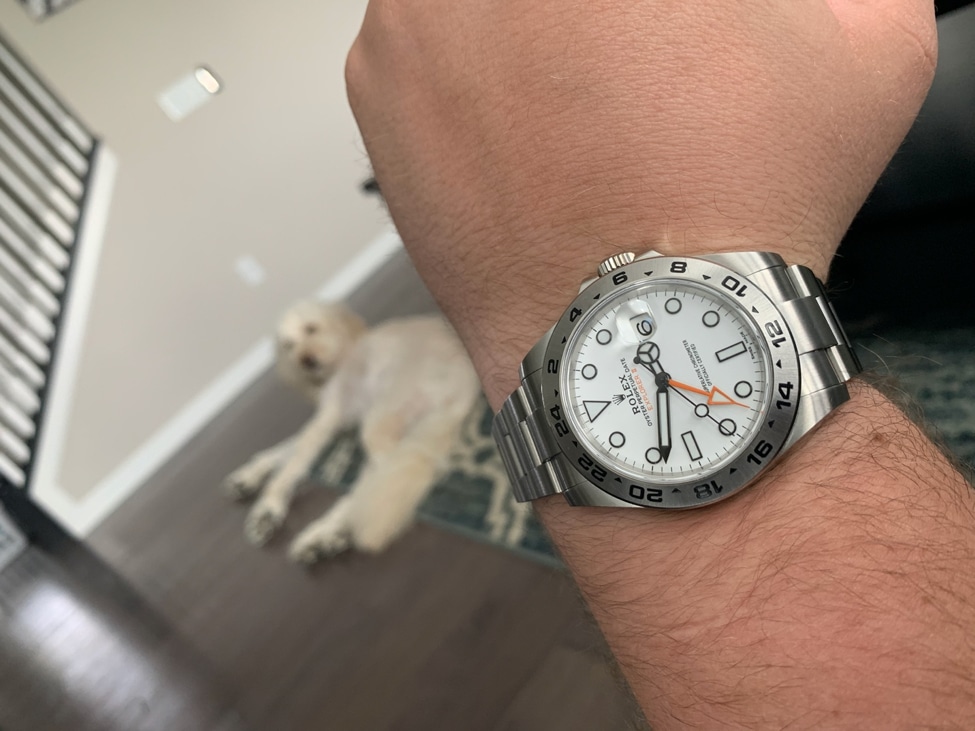 Full disclosure, this is my 'daily driver,' if you will. I wear this watch every day so I may be a little biased. I've always had my eye on this example from Rolex but didn't pull the trigger on adding it to my collection until 2019. I think 2019 was when my boss (see wife) got sick of hearing me talk about it and assumed me buying this would finally shut me up but as us watch nerds know, that's never the case.
I've said it before in past articles, I love watches as tools, more than telling time. And I especially love the GMT function. I believe this is the most practical complication offered by any brand on the market, whether it be Rolex, Breitling, IWC, etc. For the business professional who travels between time zones, a GMT watch should be the obvious choice. By the way, if you've got time check out my other article on GMTs, Top 5 GMT Watches.
As we said at the beginning of the article, the Rolex Explorer II is not the 'hottest' model on the Rolex line. As we all know, stainless steel sport or professional models are nearly impossible to come by from the AD's right now. Props to Rolex for creating demand for something that greatly outweighs supply. Like many of you reading this right now, you're likely on a waitlist at your respected AD, waiting for 'the call.' I had this exact experience with my local AD.
To learn more about the Rolex waitlist for the Explorer II, check out our article.
When I first inquired about this 216570 with white dial, aka Polar, I was told to be ready to wait, probably 6 months to a year. Well jump forward three months to a call from my friend Aaron (AD sales associate) and my Polar was ready to be picked up. I remember he called about 5 minutes before they closed on a Friday night. My house is about 20 minutes away so I was like a kid on Christmas, waiting for the clock to strike 10 am the next morning. I think I got there at 9:50 and thankfully they saw me and let me in early, as the excitement I had couldn't wait any longer.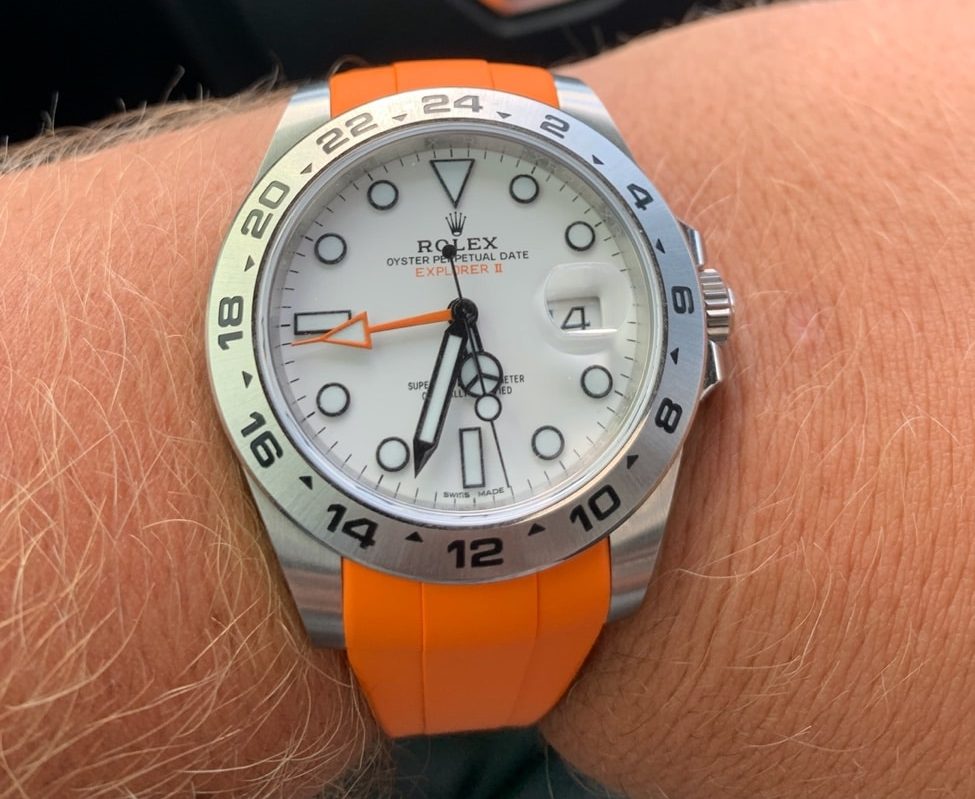 The availability and wait times for the 216570 continue to be months or longer. As for secondary pricing, a quick look today at Chrono24 puts the 216570 in the high $8k-$10k range.
Rolex Explorer II Specs
| | |
| --- | --- |
| Case Material | Oystersteel |
| Case Size | 42 |
| Movement | Perpetual, mechanical, self-winding |
| Calibre | 3187 |
| Precision | -2/+2 sec/day |
| Bracelet | Oyster |
| Bezel | Fixed, 24-hour graduated |
| Crystal | Sapphire |
| Water Resistance | 100 meters / 330 feet |
| Crown | Screw Down |
To learn more, read our full review of the Rolex 3285 movement.
Rolex Explorer II Pricing & Availability
The Rolex Explorer II can be purchased at authorized dealers for $8,550 MSRP. Waitlists do exist for this collection and one could expect to wait anywhere between 6-18 months. Even though the white dial is commonly known as the more desirable reference, both sell out as soon as they arrive in the store.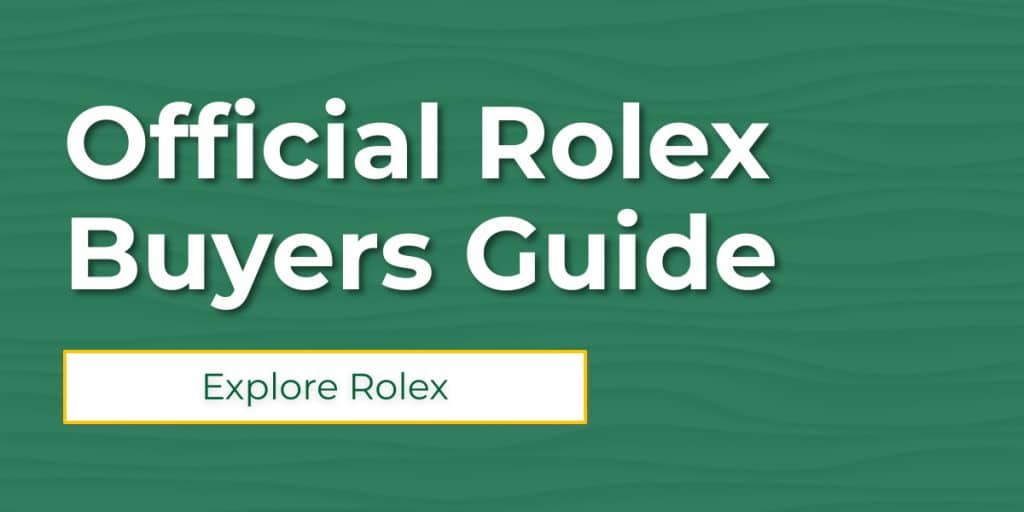 In Closing
To close this article about our Rolex Explorer II review, we can't say enough good things about the Rolex Explorer 216570. From the simple, yet elegant design to the GMT function and durability, this example is the definition of tool watch. We hope you enjoyed this article and maybe learned a thing or two.