The Rolex Datejust 41 sets the standard for modern dress watches
Since 1945 the Rolex Datejust has been setting the standard for steel dress watches across all social circles. Rolex founder Hans Wilsdorph set out to introduce the first wrist watch that included a date wheel. It's almost hard to imagine that until 1945 wrist watches didn't have one of today's least complicated complications. Since the Rolex Datejusts introduction, its reputation & allure have only grown which has led Rolex to introduce new and more updated models. Over time, 36mm watches became to be viewed as small and even ladies watches. In 2019 Rolex introduced the Rolex Datejust 41 to give gents the ability to wear the icon Datejust in a modern size, 41mm. With this modern update, the Rolex Datejust didn't lose any of its recognizability and only improved itself through advanced watchmaking technology.
Rolex Datejust 41 Specs & Features
The introduction of the Rolex Datejust 41 white dial ref 126300 in 2019 was a much anticipated release. Not only did Rolex introduce its new in-house automatic movement for the Datejust 41, it also provided a large number of material, bracelet, and dial combination variations to personalize each watch to fit its owner.
| | |
| --- | --- |
| Case Material | Oystersteel |
| Case Size | 41 |
| Movement | Perpetual, mechanical, self-winding |
| Calibre | 3235 |
| Precision | -2/+2 sec/day |
| Bracelet | Jubilee |
| Bezel | Smooth |
| Crystal | Sapphire |
| Water Resistance | 100 meters / 330 feet |
| Crown | Screw Down |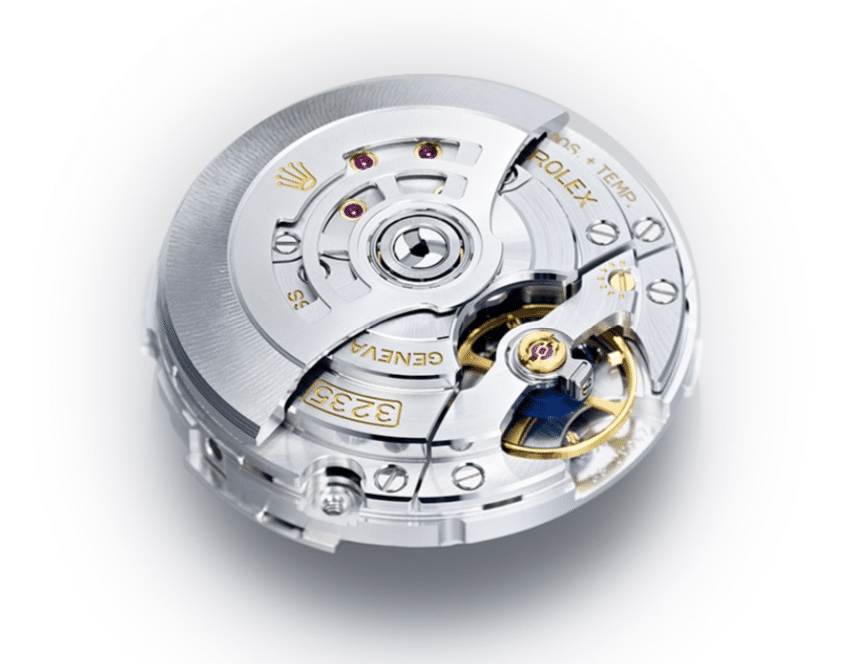 The 3235 Manufacture Rolex Movement
The upgraded COSC certified Rolex in-house 3235 movement for the Datejust 41 increased the power reserve from 42 hours to an impressive 70 hour power reserve. The +2/-2 second per day 3235 in-house movement owns a paramagnetic blue parachrom hairspring to improve antimagnetic interference along with high-performance paraflex shock absorbers. As what you would expect with a new generation of any mechanical piece of technology, the maintenance schedule on the 3235 is expected to vastly outperform its predecessor. Our contacts in the watch industry have told us that Rolex expects service on these movements to be every 10 years or more.
Proprietary Rolex Oystersteel
The Rolex Datejust 41 White Dial ref. 126300 comes in all Oystersteel. Rolex manufactures all their materials in-house and ensures that they are of the highest quality. The Oystersteel in this 2019 release is 904L stainless steel. Rolex has always been on the cutting edge with the type of steel they use for their watches. When Rolex started the craze to 316L, the others followed. Recently the switch to 904L was made because of its long term performance. 904L stainless steel, which is typically found in the aerospace & chemical industries, is a very anti-corrosive material that can stand the test of time. A common question is how does 904L compare to the 316L, its predecessor. The 316L is more scratch resistant but from our experience the difference is negligible. The trade off is well worth the upgrade to the 904L.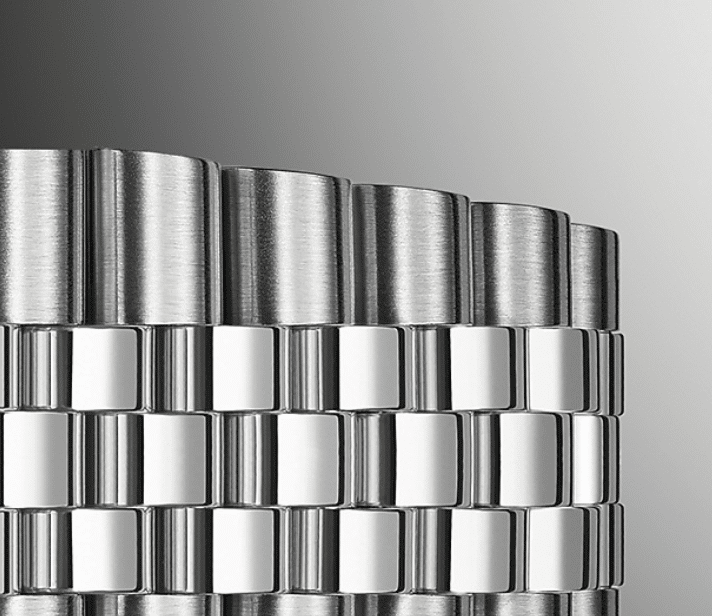 Classic Jubilee Bracelet
It's undeniable that there is no other bracelet in the watch industry that is more recognizable or more comfortable than the Rolex jubilee bracelet. The jubilee bracelet for the Rolex Datejust White Dial ref. 126300 is made of Oystersteel and owns one of the best clasps Rolex has ever made. The Datejust offers other bracelet styles but we suggest that you give the jubilee serious consideration.
Rolex Signature Cyclops
What better way to show off the first wrist watch in history to have a date wheel than to magnify its presence. Rolex still includes is 2.5x magnification cyclops lense to allow for date reading at a quick glance.
Case Design
The Rolex Datejust 41 is really a watch that needs to be held and inspected in person. Its case has such a beautiful rounded shape to it that just shines wonderfully with the 904L stainless steel. The Rolex Datejust 41 has an impressive 100m water resistance, a screw down crown and a smooth Oystersteel bezel. Overall the case shape and lugs do a great job allowing the watch to sit comfortably on wrists of all sizes.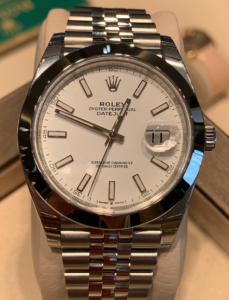 Dial
The reference 126300 has that classic Rolex white dial that honestly looks good pairs well with anything. If dial color is important, we suggest scooping up a white dial Datejust 41 if you ever run into one at your AD. Currently Rolex isn't accepting orders for the Datejust series and white dials are very hot, so it'll be rare that you see another one for a long time.
What We Like About The Rolex Datejust 41 ref 126300
There is a lot to like about this watch. For starters, when you wear this on your wrist you join a club of many Datejust wearers before you. It's an iconic watch that has etched it's place in stone within the watch community. As for the Rolex Datejust 41 White Dial ref. 126300, it's a thing of beauty. This Rolex simple put, wears perfectly on the wrist and just overly feels solid. It's everything that you would imagine and want out of a Rolex. The watch oozes elegance, style, and sophistication all while being one of the most accurate timekeeping tools on the market.
I've personally owned this watch for almost a year and it makes me smile everytime I put it on. I can honestly say that I have never worn a more comfortable watch. The way the jubilee bracelet contours to the shape of my wrist and the way the clasp securely fits the wrist is just a thing to marvel at. It's a detail that sometimes gets lost with watch manufactures, but not Rolex.
Performance is never a concern with the Rolex ref. 126300. The movement performs to every bit of COSC certification and the power reserve is long enough that I've hardly had to wind the watch since I was lucky enough to have bought it.
There is something uniquely brilliant and yet simple about the white dial. The white dial brings a level of simplistic elegance that is enhanced by the white luminated markers. This white dial offers excellent luminosity that honestly lasts the entire night if it's been exposed to light in the afternoon.
The polished surfaces on this Datejust are excellent at catching light from every angle. One of the most notable features of the ref. 126300 is the smooth bezel. I would argue that the smooth bezel is even more light reflective than its counterpart with the fluted bezel.
Value Proposition For The Rolex Datejust 41 White Dial ref. 126300
The long and short term value for this watch is quite strong. Let's be honest, it's a Rolex. Even though this isn't a steel sports model, it is a new release from 2019 that's in popular demand. After researching the pre-owned market, we've noticed that the value for the all Oystersteel with the smooth bezel has not surprisingly held it's value at MSRP or close to it. The fluted bezel reference can't say the same. The fluted bezel, which is made of white gold, seems to drop in value once it hits the pre-owned market.
Is the Rolex Datejust 41 a good investment. Find out with our Rolex Investment & Value Guide.