Limited Edition Nomos 50 Brinkers Introduction
Launching on October 28th 2023, Brinkers will once again release a limited edition Nomos Club Campus watch title Nomos 50. This watch signifies the 50 years Brinkers Jewelers has been in business and blends the previous Nomos 48 and Nomos 49 limited editions. For this Nomos limited edition watch there will be only 50 numbered units available for sale, which makes it one of the most exclusive Nomos limited edition watches ever made.
What the Nomos Club Campus does well is provide opportunity for great color combinations. Personally from what I've seen, Brinkers has done extremely well designing it's previous limited edition Nomos watches and have knocked it out of the park with the Nomos 50 Brinkers. The Nomos 50 Brinkers features a highly contrasted dial that includes a black dial with bright green California indexes and a grey sub dial. I want to give credit to Brinkers on how they designed their 3rd watch of their 3 part limited edition series. If you look closely, they added elements from their previous two watches into the most recent one. Each watch signifies the different stages of their jewelry business so it's only fitting that the 3rd one represents a blend of their entire history.
Watch our full review of the Nomos 50 Brinkers on YouTube.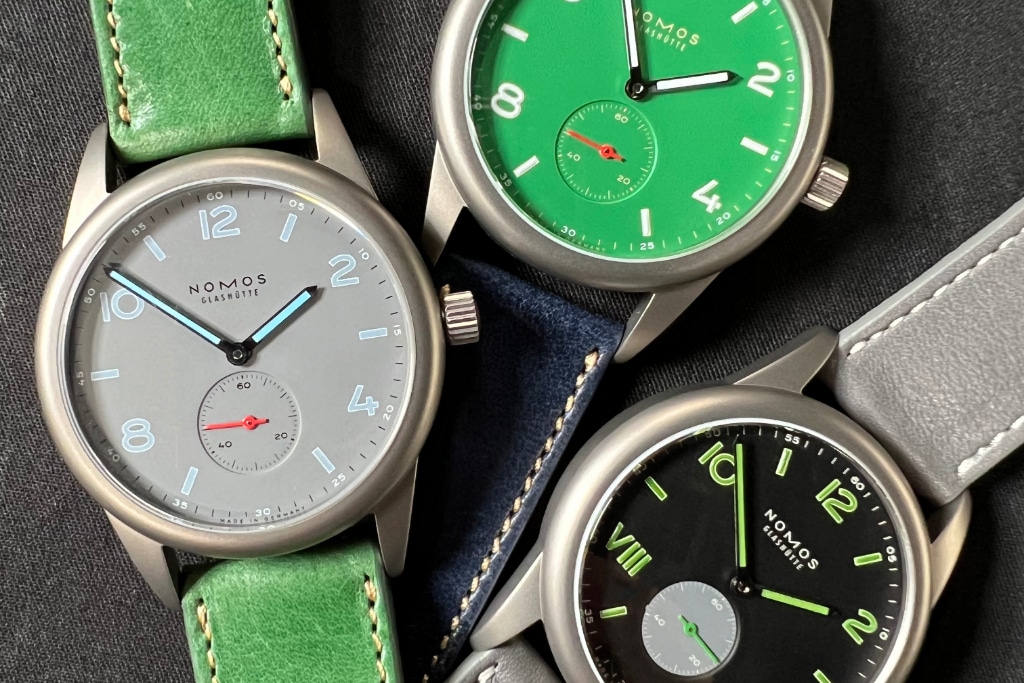 The Rise Of Brinkers Nomos Limited Edition Watches
The limited edition Nomos 50 Brinkers is the 3rd watch in the last 3 years that both brands have collaborated on and the watch community is starting to take notice. It's important to note that Nomos has allowed Brinkers to have an exclusive design element that none of the other Club Campus watches have, which is a tegimented case. That unique design feature combined with the beautiful color combinations and highly sought after and are available in such limited quantities. So much so that it's not uncommon to see the Brinkers Nomos watches command prices over retail on the pre-owned market.
Scratch Proof Tegimented Case Finishing
One of the most interesting features of the limited edition Nomos 50 is the case finishing. What Brinkers and Nomos decided to do for this watch was improve the hardness of the stainless steel through a tegimentation process. Essentially what this means is that the case finishing went through a complicated hardening process, which provides extreme resistance to scratching and swirls to the case. When you think about it, a tegimented case just makes so much sense. It's hard to believe that more watches do not possess this same quality.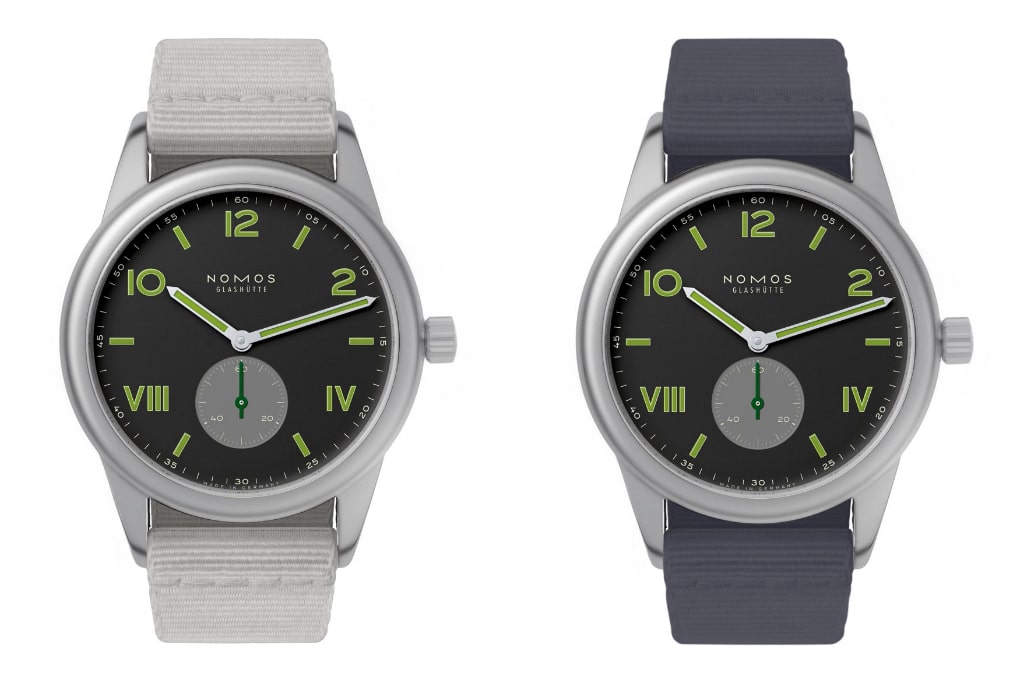 Alpha Movement
Powering the newest Nomos limited edition is the in-house Alpha movement. According to the Nomos website, the Alpha movement has developed to chronometer specifications, which means that it is highly accurate. The Alpha movement is manual wound and has a power reserve of 43 hours. To have a movement of this quality in a watch that is priced like the Nomos 50 Brinkers is incredible. There is so much value to be had with this watch and the Alpha movement contributes to much of that.
For more information on the Nomos Alpha movement, read our full review.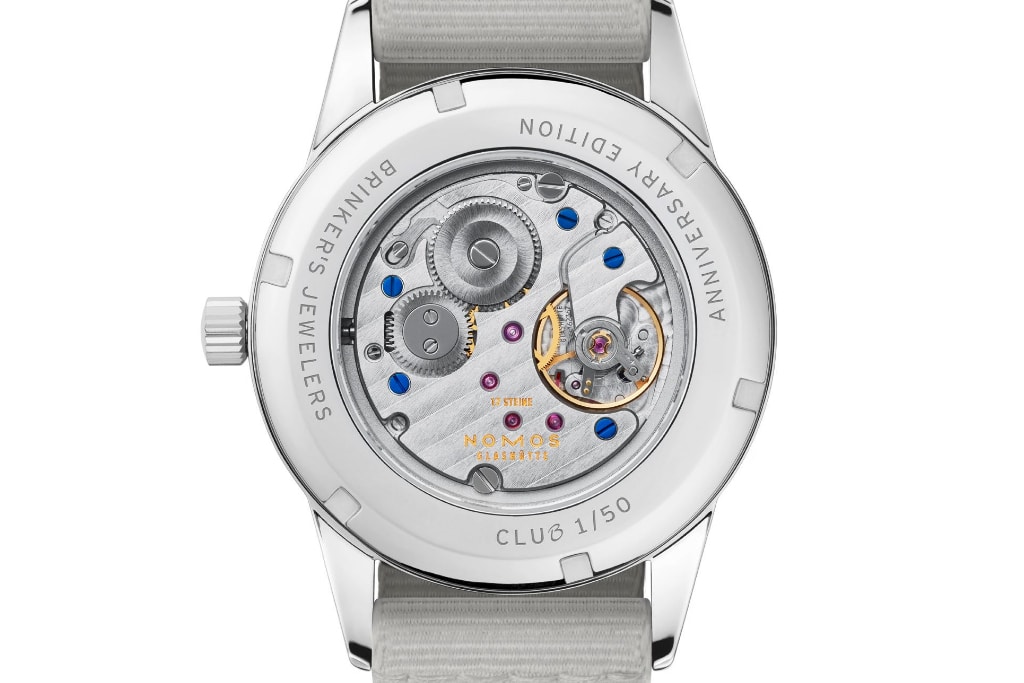 Nomos 50 Brinkers Specs
| | |
| --- | --- |
| Case Size | 38.5mm |
| Case Material | Stainless Steel |
| Finishing | Tegimented |
| Water Resistance | 100m |
| Crystal | Sapphire |
| Movement | Mechanical - Manual |
| Calibre | Alpha |
| Power Reserve | 43 hour |
Pricing, Availability, & Release Date
The newest Nomos limited edition, Nomos 50 Brinkers, will become available on October 28th with a price tag of $2,150. There were only 50 watches made so this is an extremely limited run.
If you are interested in learning more or want to purchase this watch, we highly advise you to call Brinkers at 812-476-0651 or complete an inquiry on their website.