New Tag Heuer Aquaracer 300m GMT
In August 2022, Tag Heuer released the newest watch to the Aquaracer collection, the 300m GMT. Visually this watch is spectacular and the bezel color choices are spot on but it didn't take long for me to become a little confused. The Aquaracer 300m collection is for dive watches and the new Tag Heuer Aquaracer 300m GMT doesn't provide that functionality. To be honest it almost feels Tag Heuer released a watch for fashion purposes and ignored their core collection integrity.
I don't want this whole introduction of the newly released Aquaracer 300m GMT to be about where TAG, in my opinion, dropped the ball but I think that it paints a larger picture of the brand themselves. Dive watches are dive watches and traveler watches should be separate. Rolex is the best example of this. They've maintained collection integrity, purposely built, all while not changing the design of two similar watches. The Submariner and the GMT Master II differ only very slightly in design but are two completely different watches. I would have liked TAG Heuer to have taken the same approach with the Aquaracer 300m GMT.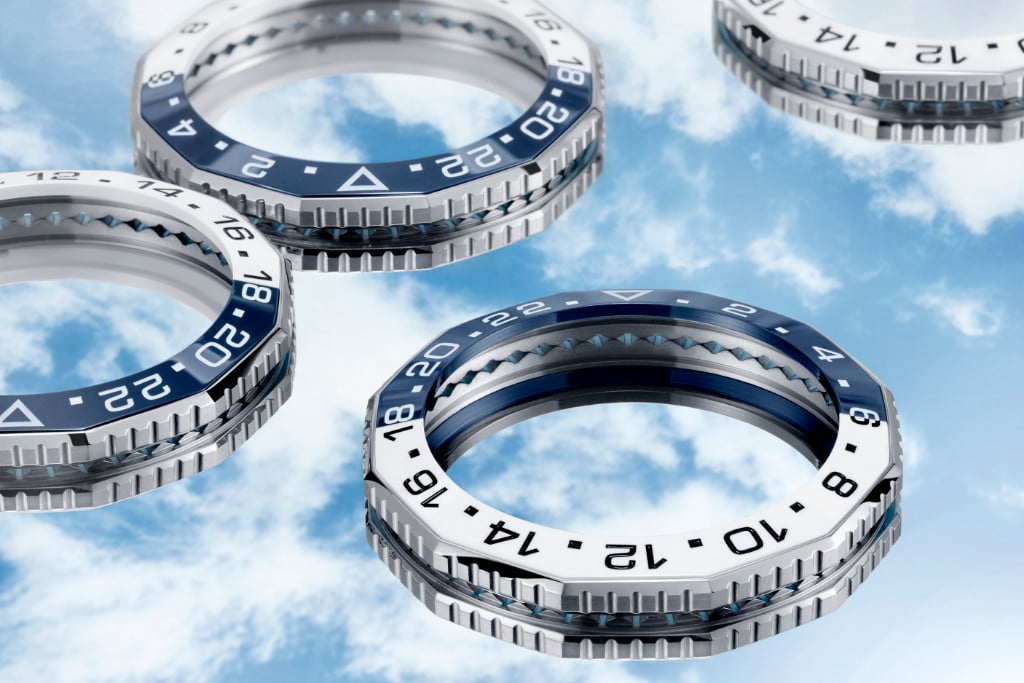 If TAG is wanting to release new watches, it would be refreshing to see them do it the proper way instead of stacking alternative functions on top of unrelated collections.
Ok, now is the time to introduce all the different features of the Aquaracer 300m GMT. I truly think this is a fine looking timepiece and I'm excited to dive in.
For a full review of the Tag Heuer Aquaracer 300m, check out our in-depth review.
GMT Bezel
The first thing that stands out with this watch is the multicolored bezel that features a combination of cold navy blue and white with contrasting arabic numerals. Ceramic is the material of choice for the Aquaracer 300m GMT and it's surrounded by a coin edged outer ring.
The execution of the bezel is really what makes this watch pop and fun to look at. Using white on bezels is becoming a trend and I'm excited to see what comes next.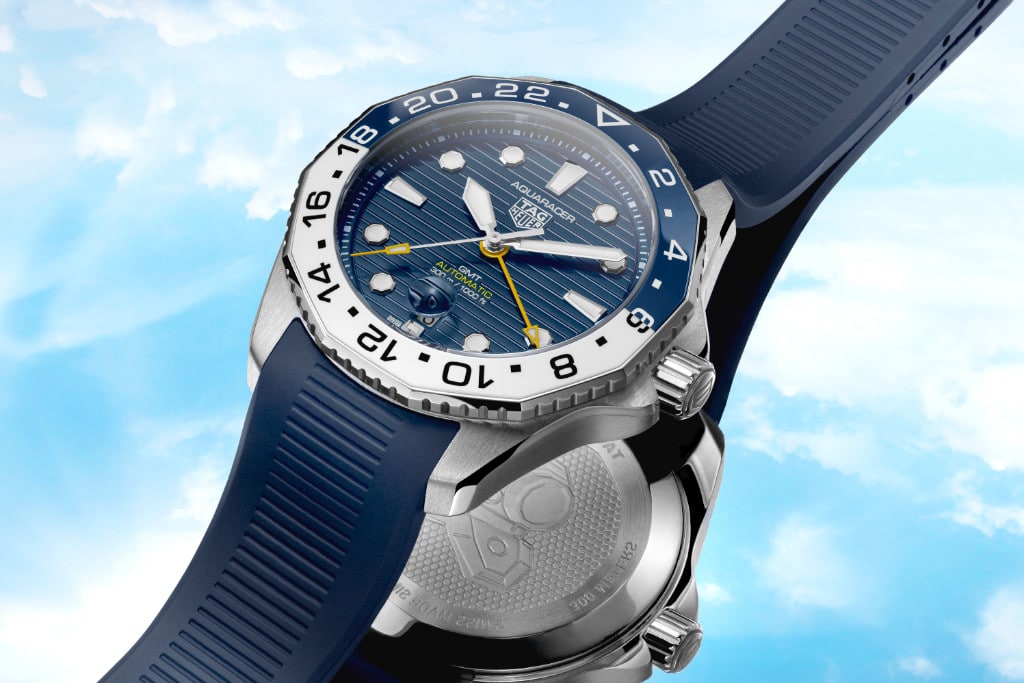 Movement
Powering the Tag Heuer Aquaracer 300m GMT is the Calibre 7 Automatic. This mechanical movement has a 50 hour power reserve, a frequency of 28,800 and allows for a date and GMT complication. The Calibre 7 is not an in-house movement manufactured by TAG. This movement has either a base of the ETA 2892 or Sellita SW300 depending on which year of production it was made in.
Even though this movement isn't a chronometer, I've found that either the Calibre 5 or Calibre 7 outsourced movements keep very accurate time.
Learn more about the Calibre 5 automatic movement from Tag Heuer.
Dial
Blue is the color of choice for the new TAG traveler watch, the Aquaracer 300m GMT. The dial is decorated with horizontal cuts to give the dial depth and the octagonal indices to provide a unique look. I'm not sure if TAG enthusiasts have jumped on board with the new dial designs for the Aquaracer collection but they are starting to grow on me.
Since this is a GMT watch, it's only fitting that the GMT hand be distinctive from the others. TAG has chosen to go with a bright yellow GMT hand, which pairs very well with the blue and white color combination.
Overall the Aquaracer 300m GMT is very legible in bright and low light conditions.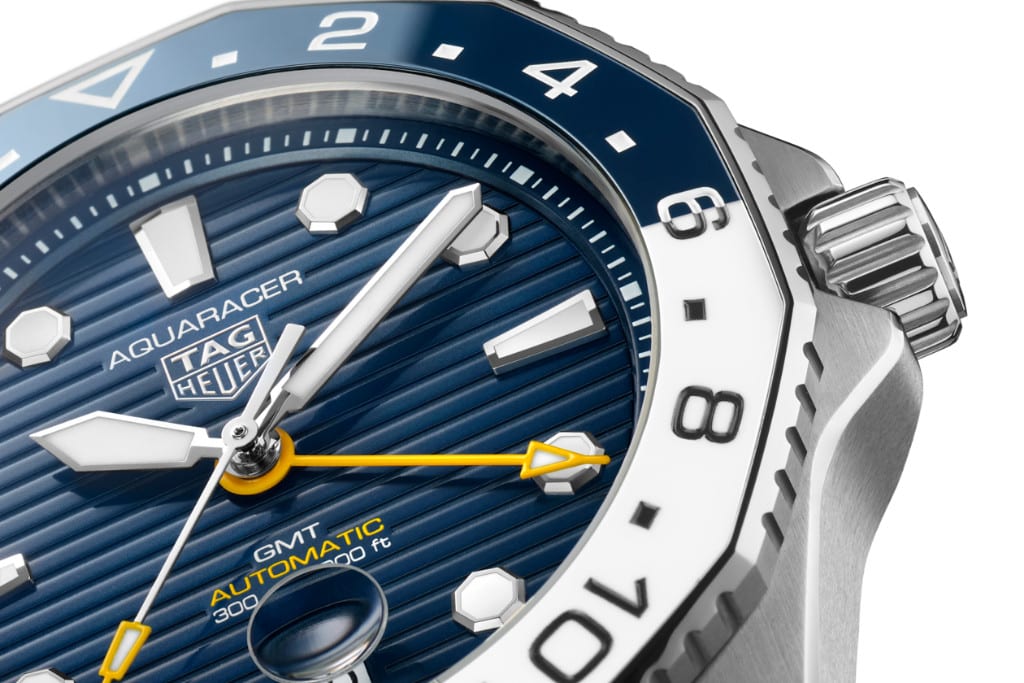 Case
When I owned my Aquaracer, I was thrilled with how the case looked and felt on my wrist. For being a dive watch it was actually quite slim. The same holds true for the new Aquaracer 300m GMT. It's none too bulky but at 43mm wide, large enough to have a solid wrist presence. TAG has chosen to go with a brushed finish for the case except for on a few of the contoured lines. TAG has once again showed that it can produce quality cases outside of just the Monaco collection.
Since the Aquaracer 300m GMT is still part of the Aquaracer collection, it benefits from having some serious water resistance, up to 300 meters / 1,000 feet.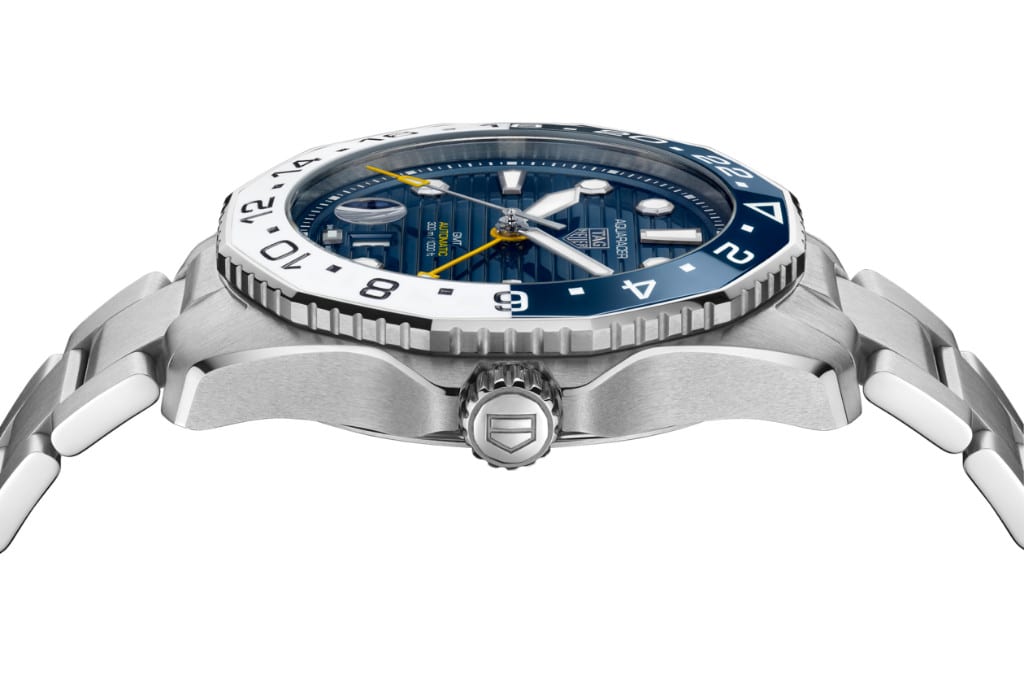 Aquaracer 300m GMT Specs
| | |
| --- | --- |
| Case Size | 43mm |
| Case Material | Stainless Steel |
| Bezel | Ceramic |
| Water Resistance | 300m |
| Buckle | Folding Clasp |
| Movement | Automatic |
| Calibre | Calibre 7 |
| Power Reserve | 50hrs |
| Frequency | 28,800 (4Hz) |
| Complications | Date & GMT |
Pricing, Availability, & How To Buy
The Tag Heuer Aquaracer 300m GMT is reasonably priced at $3,800 MSRP. At this price point many would actually feel comfortable traveling with this watch. When traveling there is always uncertainty with new places so to be able to wear a quality watch that doesn't make you a target for theft, or worse, is a plus.
Upon the launch of the Aquaracer 300m GMT, TAG authorized dealers had inventory are were ready to sell the watch.
When purchasing this watch you have two options. The first is, in our opinion, the best way to shop for a new watch, which is visiting your local TAG authorized dealer. You will have the opportunity to gets hands on with the Aquaracer 300m GMT and make an informed purchase decision. The alternative buying method is simple, it is buying directly from the TAG Heuer website itself.
Pros & Cons
Pros
Color combinations
Price point
Water resistance
Adjustable clasp
Cons
Lack of identity
Outsourced movement
Not a chronometer
Overall Summary
I believe TAG will do well with this watch and I wish more brands could get their traveler watches down to this price point. The reason being is it's much safer to travel in unfamiliar places with a $3,800 GMT than a $15,000+ GMT. I'm speaking from experience. My Rolex Batman stays at home when I'm gone because it's potentially safer there than on my wrist.
This is a great watch but it can be weighed down by the lack of vision from the brand. If we're purely looking at the watch though, I think TAG knocked it out of the park with the new Aquaracer 300m GMT. The color combination makes it stand out, the design is appealing, and the price point is just about right.