The New 2021 Rolex Dials
In 2021 Rolex released a new set of dials that incorporated new patterns and design. To many, this was an unexpected move but it's been received very well from the Rolex community. It appears that instead of getting create with new watches this year Rolex went the route of refining what they already had and incorporating beautifully textured dials. In this article we'll cover everything that you need to know about the new 2021 Rolex dials.
2021 Rolex Dial Designs
The new patterns mostly include what Rolex calls a "Palm Motif", a "Fluted Motif", and a new meteorite dial for the Cosmograph. All of these dials are unique and exemplify true luxury. The palm motif and fluted motif dials are crafted with the perfect combination of copper, zinc, nickel, chromium, titanium, and silicon to create eye catching metallic colors.
Which 2021 Rolex Watches Have The New Dials
The Rolex Datejust 36 and the Rolex Cosmograph were the lucky ones to receive new dials for 2021. The Datejust collection has been fitted with the palm and fluted motif dials and the Cosmograph was fitted with a meteorite dial. The new Rolex dials of 2021 are the perfect addition to the Datejust collection. This collection can already be customized in many different ways but now it can be done even more with the addition of the new Rolex dials. We've seen the colors of blue, gold, silver, and green.
The New Dials For The Datejust 36
In 2021 Rolex released newley refined dials for the Datejust 36. The dials released for this model include the Palm Motif and the Fluted Motif. Both of these design types come in different color combinations that pair very well with the Rolex Datejust 36.
The New Dial For the Rolex Cosmograph Daytona
Although meteorite dials aren't new to Rolex, they are new to the Cosmograph Daytona. In 2021 Rolex released a new Daytona that has the iconic ceramic bezel, meteorite dial, and the Oysterflex rubber strap. Because of the nature of using finite material, each meteorite dial Rolex produces is a one of a kind. Considering the meteorite dials uniqueness and also its journey to get here, it makes for a great dial on a luxury wristwatch.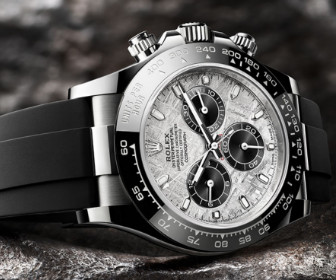 When Will The New Rolex Dials Be Available For Purchase
The new Rolex dials on the Datejust and Cosmograph Daytona are expected to arrive mid summer to early fall. There has been no official press release on availability by Rolex but this is the consensus between most sources online and feedback from Rolex authorized dealers.
Do The New Rolex Dials Make The Watch Cost More
The new Rolex dials for 2021 have no effect on the MSRP of the watch. With that being said the watches with these dials will most likely command a larger price on the pre-owned market because they are new, unique, and most likely hard to find.