Omega Seamaster Aqua Terra Review
The Omega Seamaster Aqua Terra is a versatile collection that can achieve both the function of a sports watch but at the same time can be dressed up. The most popular watch in the collection is the Aqua Terra 150m. These watches come in many different dial, strap, and material combinations. Chances are there is a reference that will speak to you.
Most everyone we've talked to about the Aqua Terra 150m is very curious but have yet to experience the watch. Along with that almost everyone has a positive impression of it. I don't know if it's the lack of marketing or what not but it seems like there is serious interest but a lack of action. If you fall into this category we suggest you head into your local Omega authorized dealer right now.
Update: Omega has released the new Omega Aqua Terra Small Seconds collection. View our full review here.
The first thing you'll notice is that the finishing on the Seamaster Aqua Terra is exceptional. The mixture of polished and brushed finishes on the case and bracelet reflect light in a beautiful way. Along with the case finishing you'll also notice how well put together the dials are and how unique the some of the colors are like the Omega Seamaster Aqua Terra Blue.
The watch neither feels to heavy or too light. Omega has found that perfect middle ground for not only weight but size. Coming in with a 41mm case diameter, it's not considered small but to be honest it wears slightly slimmer than that.
We really have to hand it to Omega for engineering and designing a watch that can appeal to so many buyers and can be worn in many different settings. If you have a limited budget and don't have enough capital for multiple luxury watches, we advise that you evaluate the Omega Aqua Terra 150m to be a daily wear that can also hold its own in a formal setting.
Check out our hands on Youtube Review of the Omega Aqua Terra Blue Dial
Omega Seamaster Co-Axial Movement
The Aqua Terra 150m is powered by the in-house Co-Axial 8800 Calibre. This movement was introduced in 2018 and has since sent a shot across the bow at Rolex. Omega's in-house Co-Axial 8800 movement is arguably better than any 3 hand movement Rolex has ever made which is responsible for why real watch enthusiasts are starting to make more of a switch toward Omega. The 880 calibre has an impressive power reserve of 55 hours, anti-magnetic up to 15,000 gauss, and has achieved Master Chronometer status.
Master Chronometer certification goes a step beyond the typical chronometer (COSC) rating. To pass the Master Chronometer certification, a watch needs to pass 8 tests. Those 8 tests include magnetism resistance at different exposure levels, accuracy of function during extreme magnetism, chronometric day to day precision, accuracy deviations (six different positions), isochronism, power reserve, and water resistance.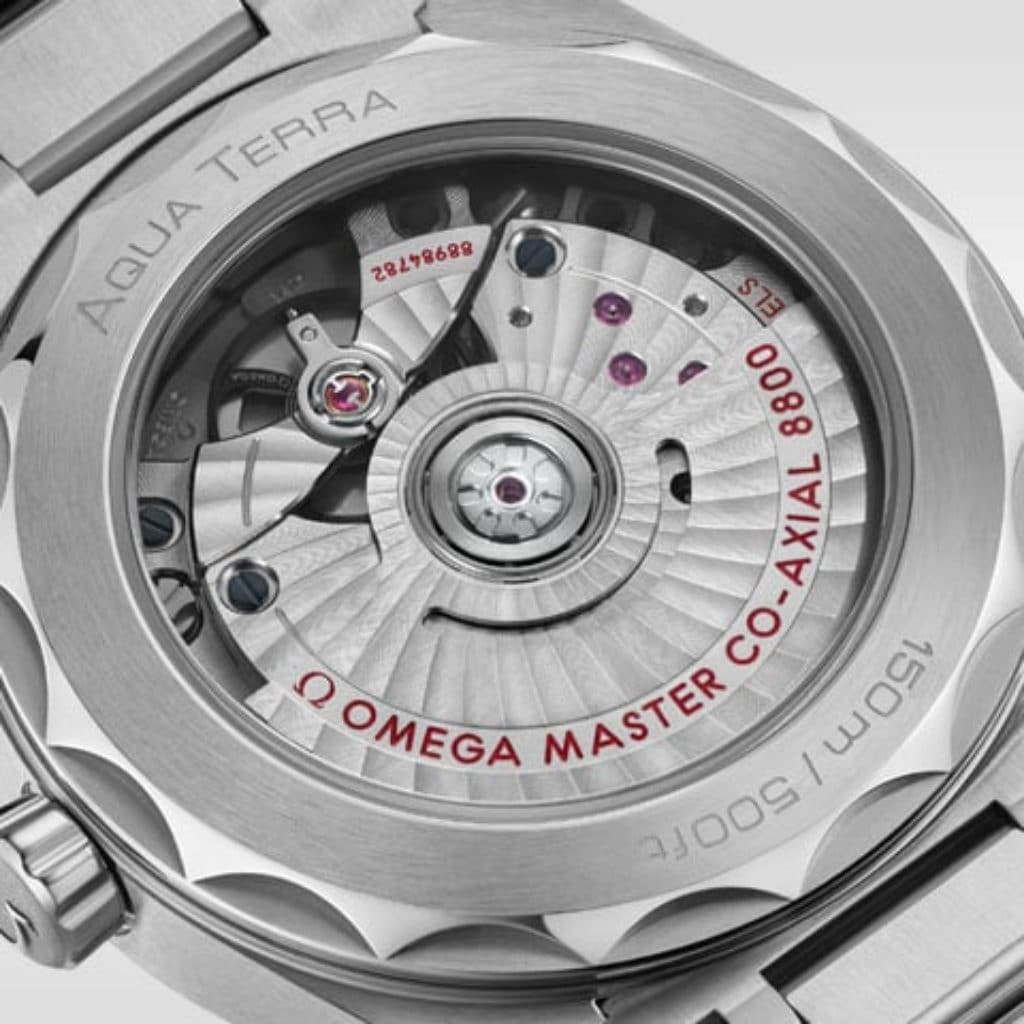 Dial
The dial on the Omega Seamaster Aqua Terra 150m collection features hand applied indices, date window at the 6 o'clock position, horizontal engravings, and a unique handset. If I had to use one word to describe the dials of the Aqua Terra 150m collection I don't know if I could choose between legible and stunning.
Even for luxury Swiss watches, the main function of the watch will always be what time is it right now. The Aqua Terra has done an excellent job marrying design with function to create one of the most elegant legible dials. Even in low light situations, the luminescent hands and indices make readying the time simple.
We've mention this multiple times already in our Omega Seamaster Aqua Terra review, that there are plenty of dial colors to choose from. What we appreciate about the dial color options is that they are unique and such a pleasure to look at. Our personal favorite is the blue dial on the Aqua Terra 150m.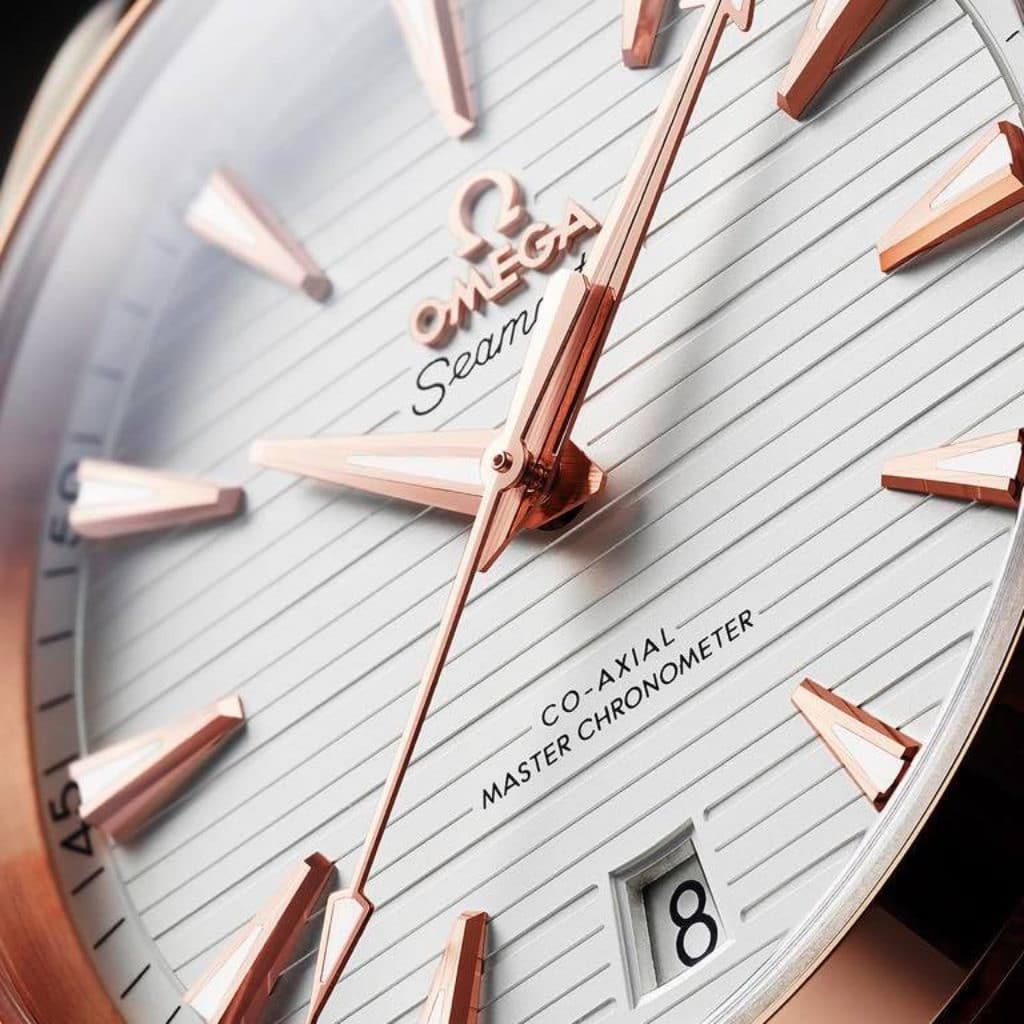 Case
The case on the gents Aqua Terra 150m is 41mm and has an obvious water resistance of 150m. When we tried on this watch to see how it fits we were pleasantly surprised with how comfortable it was to wear. Well maybe we shouldn't have been because it's an Omega but it's not one of the first things you hear if you do a deep dive in the Youtube reviews.
The most popular references for the Aqua Terra 150m are in steel cases, followed by two tone, and then lastly solid gold cases. Once again there is a Seamaster Aqua Terra to fit anyones taste and budget.
Does The Seamaster Aqua Terra Hold It's Value?
The Seamaster Aqua Terra when bought new will retain roughly 70-85% of it's MSRP value. This is typically what to expect if you're buying a luxury Swiss watch new at MSRP. To help a buyer retain as much value as possible, we recommend waiting for a discount from an authorized Omega dealer or buying pre-owned.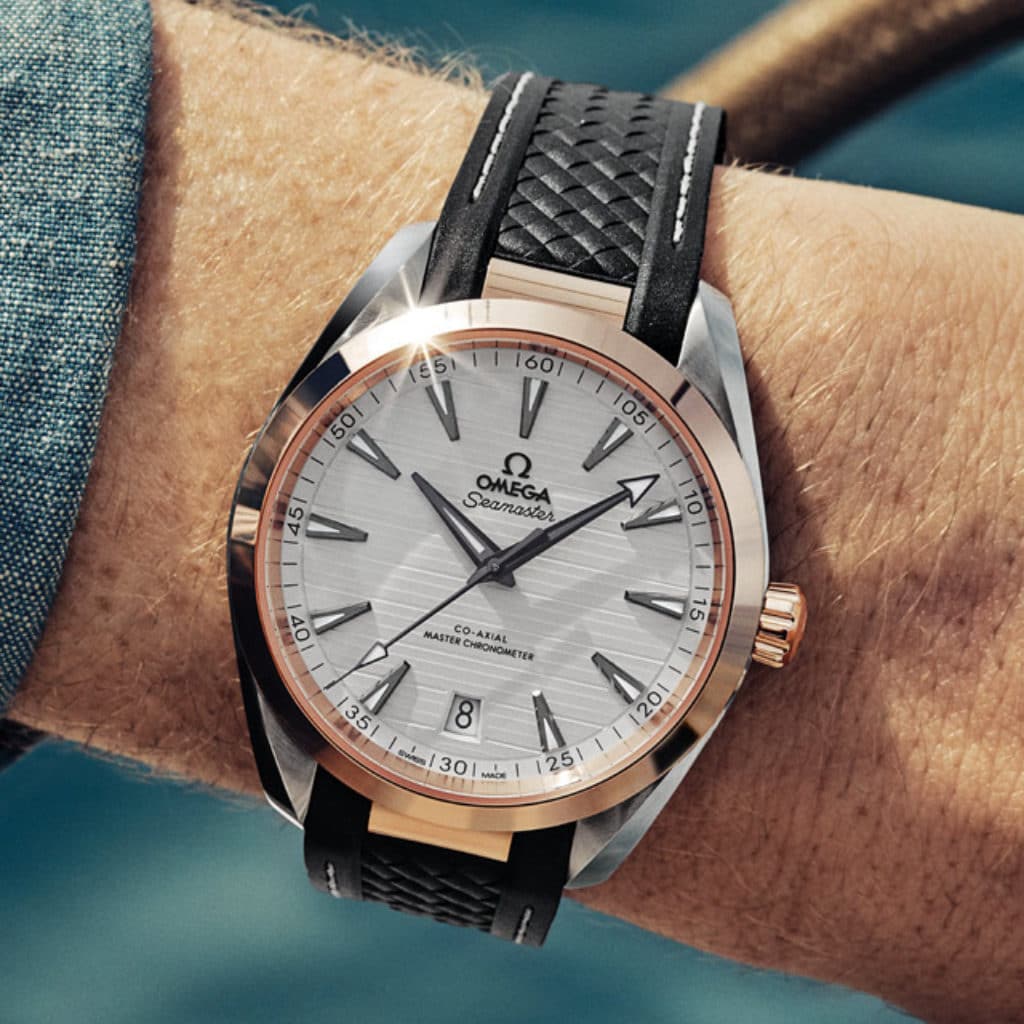 Is Omega Aqua Terra a good watch?
The Omega Aqua Terra is an excellent luxury Swiss made watch. Omega only creates high quality watches that are manufactured to the highest standards.
This is one of the most search queries on Google so we thought that we had to answer this question. It's hard to imagine that could even be a thought for an Omega watch but I guess users don't know enough about this watch to know. This is half the reason why we are doing an Omega Seamaster Aqua Terra review.
Omega Seamaster Aqua Terra vs Rolex Datejust
Most often the Omega Seamaster Aqua Terra is compared to the Rolex Datejust. This comparison is completely justified and warranted. These two collections compete in the same class and are priced relatively similar to each other with the Rolex being slightly more expensive.
It's only natural to compare the Aqua Terra to the Datejust. They both are manufactured by two giants within the watch industry, they are simple 3 hand date models, and they come in many difference references.
Personally if you asked me what the difference is between the Rolex and Omega are, I would have to say marketing. The Omega Seamaster Aqua Terra is every bit of the Rolex Datejust but to some people, a Rolex is Rolex. Unfortunately that is something Omega will have to go up against until they can mount that perception.
Ladies Aqua Terra Is A Solid Womens Watch
Well designed women's sports watches are few and far between. They either look like a smaller version of a mens watch or something that is too pink or has too many diamonds. The Ladies Seamaster Aqua Terra has been a hit with women because it's merged feminine elements into a true sports watch design.
The range of the ladies Aqua Terras is just as vast as the mens. If diamonds is your thing, Omegas got you covered. If a more true stainless steel sports model is what you prefer, honestly I think Omega has the best ladies sports watches.
Recently Omega released new 34mm & 38mm colorful dial references for the ladies Aqua Terra lineup. Check out all the color and size combinations.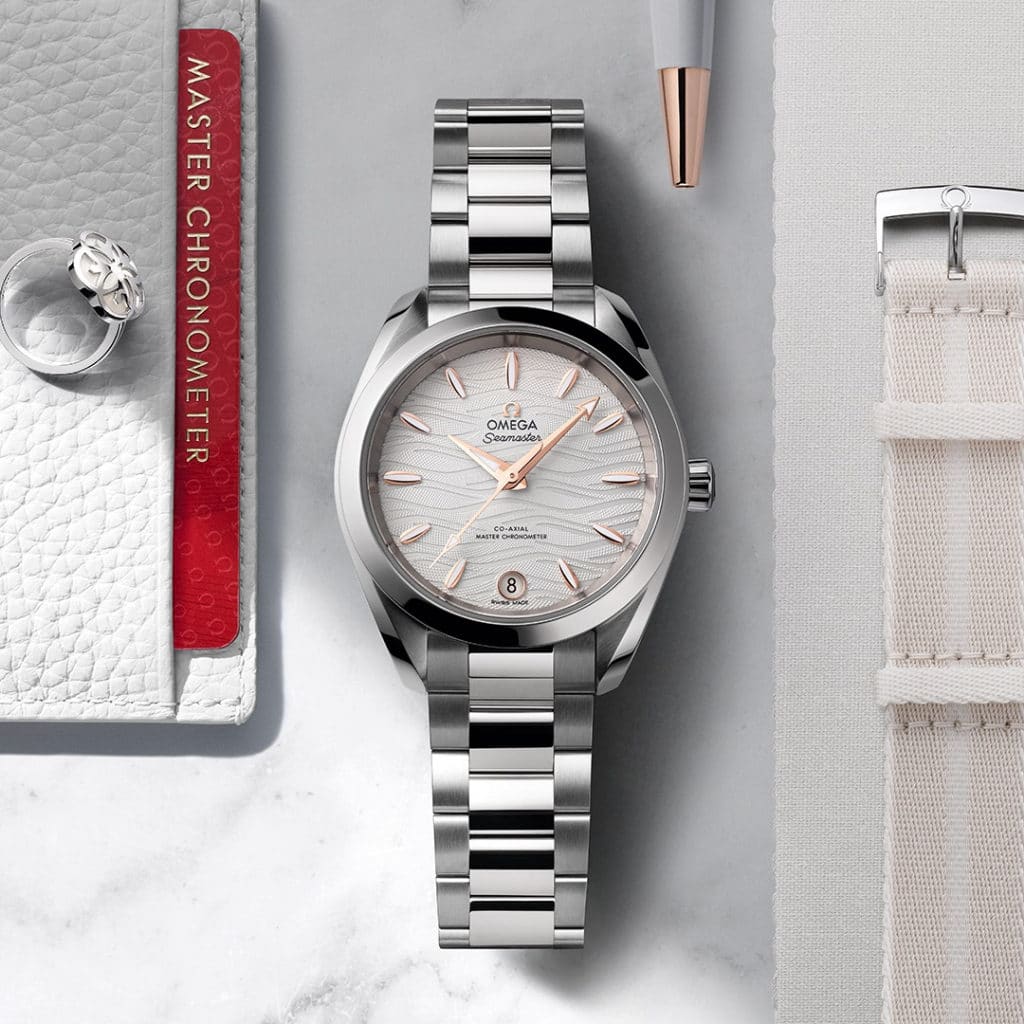 Omega Aqua Terra Specs
| | |
| --- | --- |
| Case Size | 41mm |
| Case Thickness | 13.2mm |
| Lug to Lug | 47.9mm |
| Water Resistance | 150m |
| Movement | Automatic Self Winding |
| Calibre | 8900 or 8901 |
| Accuracy | 0/+5 seconds per day |
| Power Reserve | 55 hours |
| Crystal | Sapphire |
| Caseback | Sapphire |
| Complications | Date |
Omega Seamaster Aqua Terra Pricing & Availability
Pricing for the Omega Seamaster Aqua Terra ranges from $5,400 on the low end for stainless steel models and $35,400 for precious metal models for the gentleman.
Pricing for the Omega Seamaster Aqua Terra ranges from $3,000 on the low end for stainless steel models and $51,000 for precious metal models with jewels for the ladies.