Omega Constellation 41mm
When one thinks of Omega, the first watch that comes to mind usually isn't the Omega Constellation 41mm but that will change soon. Although it will be difficult to surpass other watches in Omega's collection, the Omega Constellation 41mm is quickly rising in popularity mainly due to its updated design that separates it from the rest in the Omega Constellation collection.
We were fortunate enough to get hands on with the Omega Constellation 41mm with the help of Moyer Fine Jewelers. The time we spent with the watch didn't exceed 48 hours but that was enough to leave a lasting impression.
I first stumbled upon the Omega Constellation 41mm when purchasing my Seamaster 300m. Right before I made my purchase decision my rep pulled this watch out of the case and honestly it hasn't left my mind since. I think in particular what stood out to me is that the Omega Constellation 41mm is unique, the color combinations are flawless, and it is overall a superior watch based on its technicals.
All in all I still haven't stopped thinking about it which makes me believe that there are other out there that like it as much as I do. That leads us here to my Omega Constellation 41mm review. I hope the rest of you enjoy it as much as I do.
For a full video review please visit our full hands on Youtube Video Review of this watch.
A New Look For The Mens Omega Constellation 41mm
If you're a little bit like me you've know the Omega Constellation collection for years but haven't spent too much energy into it because they look somewhat outdated or for a niche audience. Maybe Omega thought the same thing and that is why they updated the size for the Omega Constellation up to 41mm and gave it a slightly different look.
I want to give Omega credit for their work. It really is stunning what they've accomplished. Consider this, in 2018 the Seamaster 300m was updated as well and I could go on and on in this article but luckily I already have, read more. So we've seen in the past few years Omega take two of their collections, completely modernize them, and hit home runs with both. It's too early to tell what the success of the Omega Constellation 41mm will be but we've seen the Seamaster 300m be compared to a close alternative or even best the Rolex Submariner.
Silk Embossed Silver Dial
The particular reference I was afforded to borrow was the two tone rose gold. This reference has the beautiful silk embossed silver dial. If you haven't yet seen our Youtube video, we highly recommend it just so you can see the dial. Outside of the ceramic bezel, the dial is the most recognizable feature of this watch.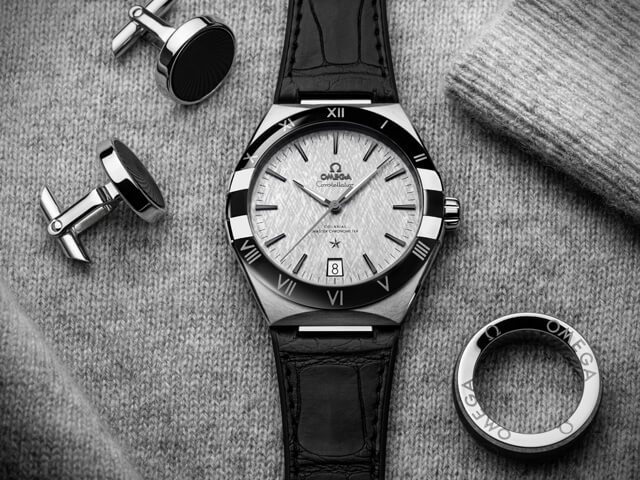 When I was taking notes for my Omega Constellation 41mm review I had a difficult time writing a description for this dial because I'm not sure that "silk embossed" is the right term. To my surprise I still haven't labeled it which pleasantly gives me joy because that is what we should enjoy in art and manufacturing. Seeing something new or different that we cant quite describe is a rare feat and I think that has been achieved with the Omega Constellation 41mm.
If I had to rate any portion of this watch outside of the movement, the dial would get the highest grade 10/10.
Sophisticated Case Design
You don't see many case designs that are similar to the Omega Constellation 41mm. Whether that's good or bad, you can be the judge. Personally I like it. It's all too often we see watch brands copying what others have done so it's refreshing to see something different.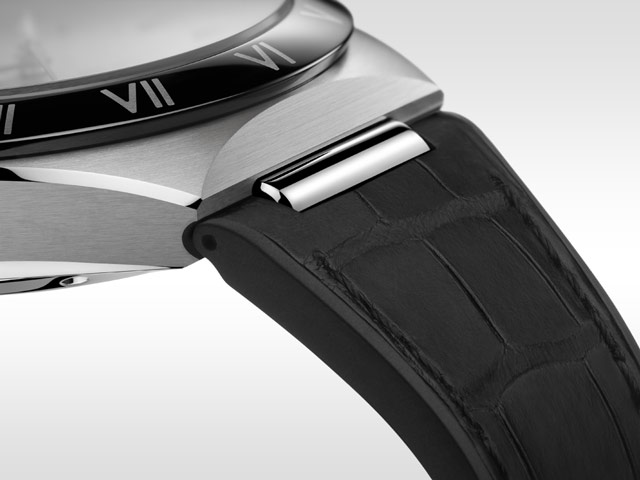 Even though this Omega Constellation is 41mm in size it doesn't wear like one. I think this stems from the contours of the case. The sides of the case are rounded to perfection while the lugs literally consist of a flat surface. Not sure if I'm right here but I suspect that to be the case, no pun intended.
It's also worth mentioning that the tapered leather strap helps with this Omega Constellation 41mm wearing a bit smaller than its listed size.
New Ceramic Bezel For the Omega Constellation 41mm
In the past we've only seen stainless steel or precious metal options for the Omega Constellation bezels. To continue the trend of durability in the watch industry, Omega has decided to put a highly polished ceramic bezel on the new Omega Constellation 41mm mens watches.
Not only does the addition of a ceramic bezel for the Omega Constellation 41mm add durability to the watch, the way it's been designed adds a splash of elegance as well. Perfect execution.
Master Chronometer Calibre Omega 8900 Co-Axial Movement
The in-house calibre Omega 8900 powers the Omega Constellation 41mm mens collection. This movement is part of Omega's co-axial escapement technology which has revolutionized watchmaking. Essentially the introduction of the co-axial escapement makes lubricants almost unnecessary which considerably lengthens service cycles.
Other features of the Omega 8900 movement are a power reserve of 60 hours, anti-magnetic up to 15,000 gauss, chronometer accuracy, and a top notch finishing.
Luxury Leather Strap
On the new Omega Constellation 41mm mens watches luxury leather straps are offered. Unlike other sizes within the collection we only see leather which I believe was done with purpose. Even though the metal bracelet looks like it solid construction, personally I'm not the biggest fan. I also think a watch like this belongs on a leather strap so I naturally gravitated to the references that have those included.
What Makes The Omega Constellation 41mm Gents' Collection Special
What I've learned during my Omega Constellation 41mm review is that Omega has done everything right with this new edition of the Constellation collection. The color combinations are perfect, the dials are stunning, the addition of the ceramic bezel add class, the leather bracelet is the perfect fit, and the in-house calibre Omega 8900 is phenomenal.
Considering everything you're getting at this price point, this watch should be very popular to watch enthusiasts.
Popular New Omega Constellation 41mm Models
One of the most notable references is undoubtably the Omega Constellation 41mm Blue. Over the past decade we've seen blue become a very hot color in the watch industry. The Omega Constellation 41mm Blue executes a beautiful blue ceramic bezel along with the option of a blue dial and blue leather strap.
After seeing most references in person, we'd select the Omega Constellation 41mm Blue as the 3rd best behind the black ceramic silver embossed dial and the rose gold silver embossed dial versions.
Does This Watch Retain Its Value
The quick answer to this is yes but the long answer involves at the price you buy it at. At no point do I want you to think that this watch will appreciate in value but if you can buy it at the right price from your authorized dealer, you shouldn't have a problem retaining the value of the Omega Constellation 41mm.
Omega Constellation 41mm Pricing
The new 41mm references can be picked up at multiple price points. the steel bezels start at $5,850 MSRP, the steel case ceramic bezels start at $6,500 MSRP, the two tone ceramic bezels start at $8,750 MSRP, and the precious metal ceramic bezels start at $21,400 MSRP.
Omega Constellation 41mm Specs & Technicals
| | |
| --- | --- |
| Case Diameter | 41mm |
| Water Resistance | 50m |
| Lug Width | 24.2 |
| Movement | Automatic |
| Calibre | Omega 8900 |
| Power Reserve | 60 Hours |
| Crystal | Sapphire |
| Anti-Magnetic | 15,000 Gauss |
Summary Of The Omega Constellation 41mm Review
Overall I'd have to say these new watches are very impressive. You can tell once you've seen them all lined up next to each other that plenty of planning and effort was made into their design / construction. What is even more appealing of the Omega Constellation 41mm gents' collection is that they have a reference at almost every price point. Not only is that a smart business move but they've made the ability to obtain this watch by it's fans extremely easy.
If you're looking at adding mens dress watch to your collection, I'd highly recommend trying on the Omega Constellation 41mm.
Great job Omega, I can't wait to see what comes next.