The Complete Buyers Guide To Gold Watches
Solid gold watches are considered the pinnacle when it comes to watch collecting. Because of the price of metal, gold watches for men are often $30,000 to $50,000 timepieces. Unless you're part of the ultra rich, you'll most likely have access to only one of these over a lifetime so which one you choose will have the upmost thought put into it.
Over the years the the opinion on gold watches have shifted from being must owns to being someone of a niche preference now. In recent years we've noticed a shift in the luxury mens gold watch target demographic. In the past wearing a solid gold watch was mostly reserved for older gentleman who wanted to let you know they've made it. Today we're seeing the younger generation of watch collectors in their late 30's early 40's enter in the gold watch club early. Brands like Patek, Audemars Piguet, and Rolex are often considered the most popular gold watches for men.
In this article we'll discuss what you need to know about gold watches and also introduce you to some of the best men's gold watches currently in production.
For the sake of clarity, when we mention "gold watches" in this article we are referring to solid gold luxury watches. We are not discussing Seiko gold watches, Citizen gold watches, Bulova gold watches, Invicta gold watches, Fossil gold watches, or any other related brand that isn't luxury or solid gold.
Although different manufactures have their patented gold alloys, they all fall within three different types of gold watches. These are yellow gold, rose gold, and white gold precious metal options. Some might have fancy names for marketing purposes like Rolesor by Rolex but they are are relatively the same. Where the gold watch alloys differ is in their purity, which is usually 18k gold.
All Men's Gold Watches Aren't Created Equal
We've already mentioned which gold watches for men we aren't including in this article, which aren't luxury or solid gold. Now let's discuss how watches that are luxury and solid gold can differ in quality.
What sets some luxury mens gold watches apart from other are purity, finishing, movement, gemstones, and rarity.
These five characteristics have a major impact on the overall quality of a gold watch and its value. A gold watch with an inferior movement that doesn't have the same expert finishing as lets say a Patek Philippe is still a gold watch but it's nowhere near the caliber of others.
Diamonds Or Other Gemstones
Ultra luxury gold watches often are accompanied by diamonds or other rare gemstones. Infusing these extra decorative luxuries into a watch that is already made of precious metal transforms these timepieces in timeless pieces of art.
If diamonds or gemstones are something you'll want, you'll have to pay a considerable amount more. Adding diamonds to gold watches for men will likely raise the MSRP more per carat than if you bought that weight in only one stone. It's also worth noting that resale on gold watches with diamonds is a little weak unless its considered to be a true collectors item.
With all that being said diamonds and other gemstones are very popular for mens gold watches and should be considered if you're looking for that one of a kind timepiece.
What Does A Gold Watch Says About A Man
A gold watch signifies that a man has made it in life. He has reached a level of success that can be proven to others by wearing an ultra expensive watch. Not many men can comfortably purchase a $40,000+ watch so to see man with one one lets you know that he has the wealth to do so.
What Is The Price Of A Gold Watch
Mens gold watches on average cost between $30,000 to $55,000. Purity, brand, prestige, and the use of diamonds/gemstones all play a role in the price of a gold watch.
If you are unable to buy a gold watch new, you're in luck. Precious metal watches, unless its a Rolex, tend to lose a considerable amount of value once they become available on the pre-owned market. Yes, there are exceptions to every rule but you can likely expect a 30% to 40% discount going with a used gold watch compared to buying new.
Is A Gold Watch A Good Investment
Typically a gold watch is not a good investment. There are exceptions, such as the Rolex Daytona John Mayer, but they are few and far between. The market for gold watches is simply just very small and those who can afford them are buying new, not used. Therefore to sell used ones they will have to be priced down to the next level that a larger group of buyers can afford, which most often leads to a loss for the original buyer.
Should You Buy A Gold Watch New Or Used
Inventory for gold watches fluctuates but most often it can be fairly limited. If you have the money to buy new, its never a bad idea to get what you want when you want it. If you're trying to save money or can afford a gold watch at MSRP, going the used route is advantageous because you can get a fine timepiece at a fraction of the cost.
Either way, if you buy new or used, you're going to get the watch you love in its most prettiest form.
Are Gold Watches In Style
Gold watches are making a comeback and are considered very in-demand, especially sport models. For a while gold watches were just considered for older gentleman but that is quickly fading.
One signal that points to this is there are some well known luxury watch brands that sell at lower price points that are actually coming out with "affordable" gold watches. Take Tudor as an example with the Tudor Black Bay 58 18k. This mens gold sports watch costs a mere $16,825 MSRP which is a bargain compared to alternatives.
The Best Gold Watches For Men In 2022
Rolex Day Date
Audemar Piguet Royal Oak
A.Lange & Sohne 1815 Annual Calendar
Omega Speedmaster Moonwatch
Rolex Daytona Cosmograph
IWC Portugieser Perpetual Calendar
Vacheron Constantin Overseas
Audemar Piguet Royal Oak Offshore
Rolex Sky Dweller
Breitling Navitimer B01 Chronograph
Omega Aqua Terra Small Seconds
Panerai Luminor
Jaeger LeCoultre Ultra Thin
Tudor Black Bay 58 18k
Hublot Classic Fusion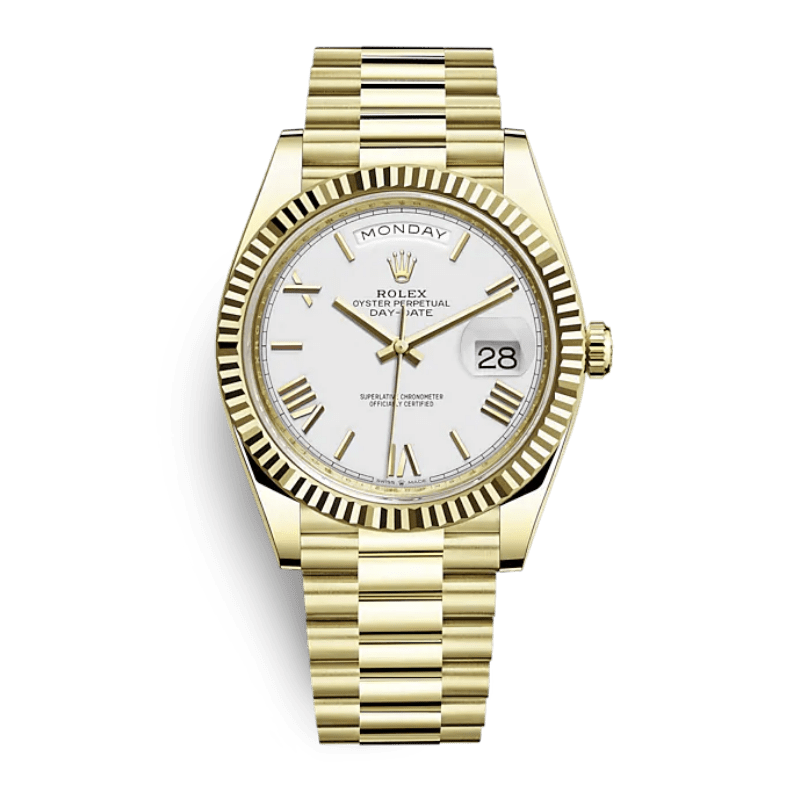 Rolex Day Date Yellow Gold Mens Watch ref. 228238
The most iconic mens gold watch is undoubtably the Rolex Day Date often known as the "President". This simple and elegant design has stood the test of time and has continually set the standard for what a gold watch should be.
MSRP: $37,450 | 18k Yellow Gold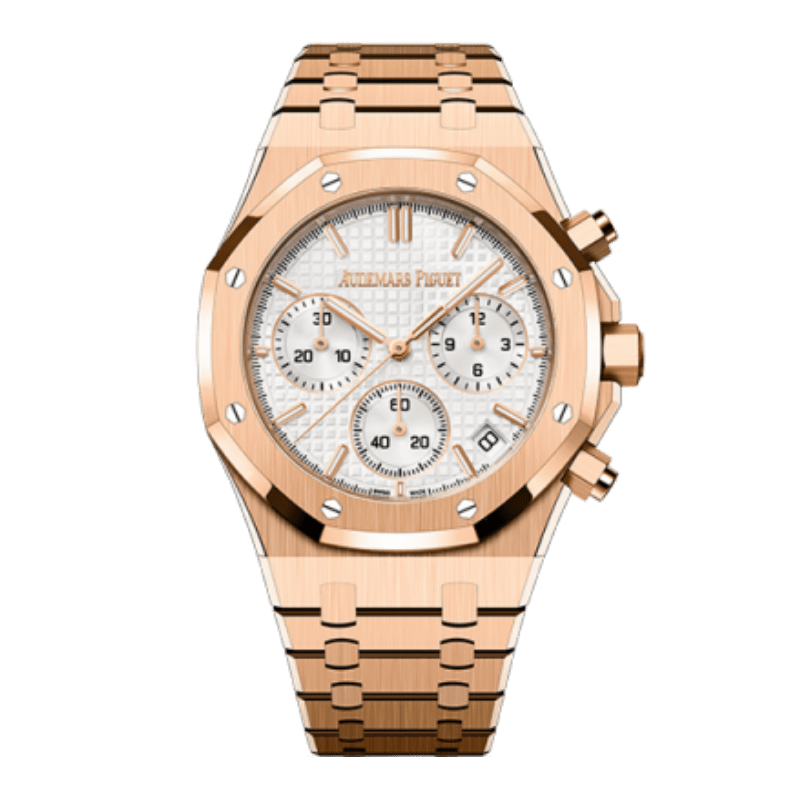 Audemars Piguet Royal Oak Yellow Gold Mens Watch ref. 26240OR.OO.1320OR.03
The rose gold Royal Oak might be one of the most difficult gold watches to acquire on the open market. If you're looking for watchmaking excellence combined with exclusive precious materials, you can't go wrong with this solid rose gold watch.
MSRP: $72,300 | 18k Rose Gold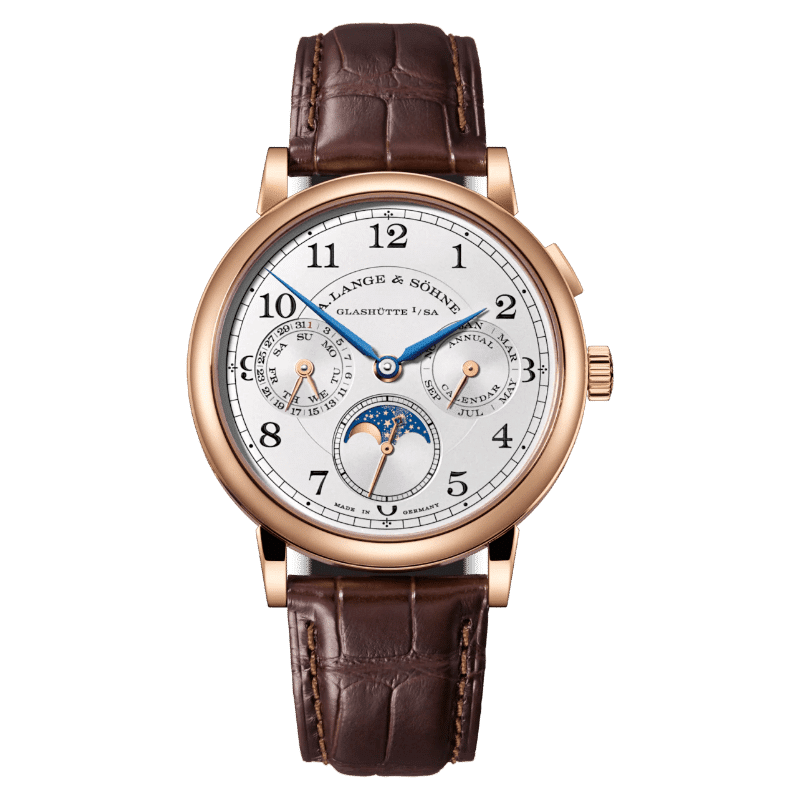 A.Lange & Sohne 1815 Annual Calendar Rose Gold Mens Watch ref. 26240OR.OO.1320OR.03
Surprisingly high on our list is the rose gold A.Lange & Sohne. This German watchmaker is considered one of the best. To produce a watch of this caliber and do it in rose gold is almost unbeatable.
MSRP: $48,000 | 18k Rose Gold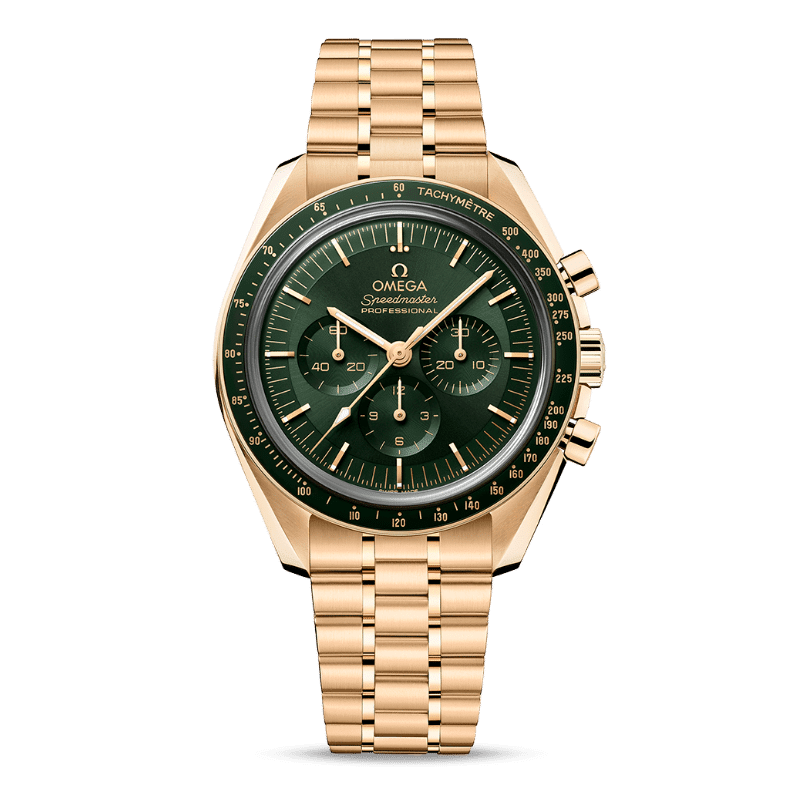 Omega Speedmaster MoonWatch Yellow Gold Mens Watch ref. 310.60.42.50.10.001
Released in 2022, Omega's yellow gold Moonwatch with the green dial has quickly risen as one of the most in-demand gold watches in the market today.
MSRP: $34,800 | 18k Yellow Gold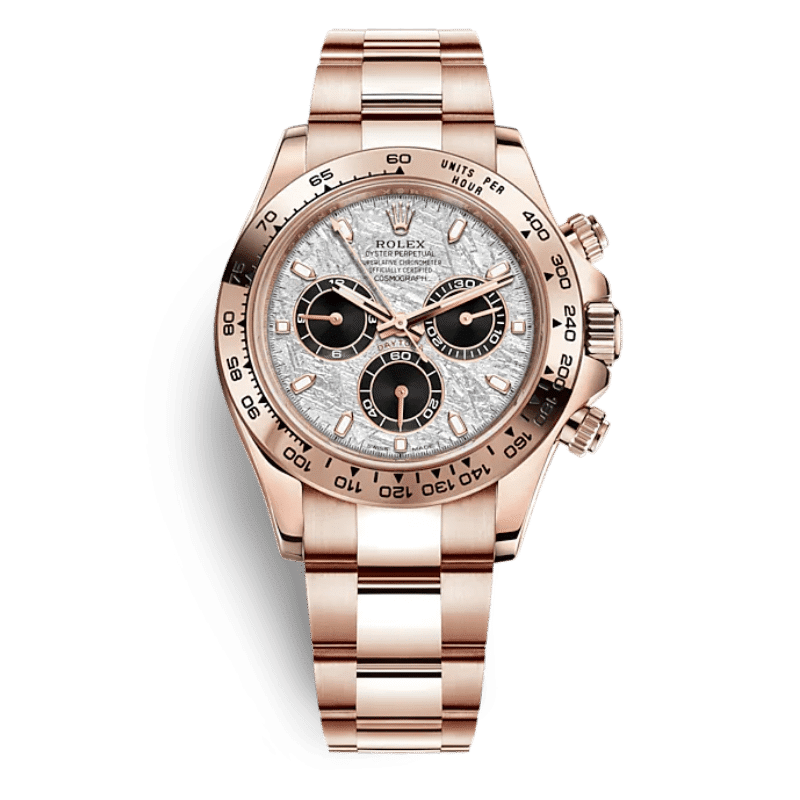 Rolex Daytona Rose Gold Mens Watch ref. 116505
This reference may not be the most valuable Rolex Daytona but in our opinion it is the most beautiful reference. Rolex produces an amazing rose gold material and combined with the exotic meteorite dial, ref. 116505 is an all-time classic.
MSRP: $44,800 | 18k Rose Gold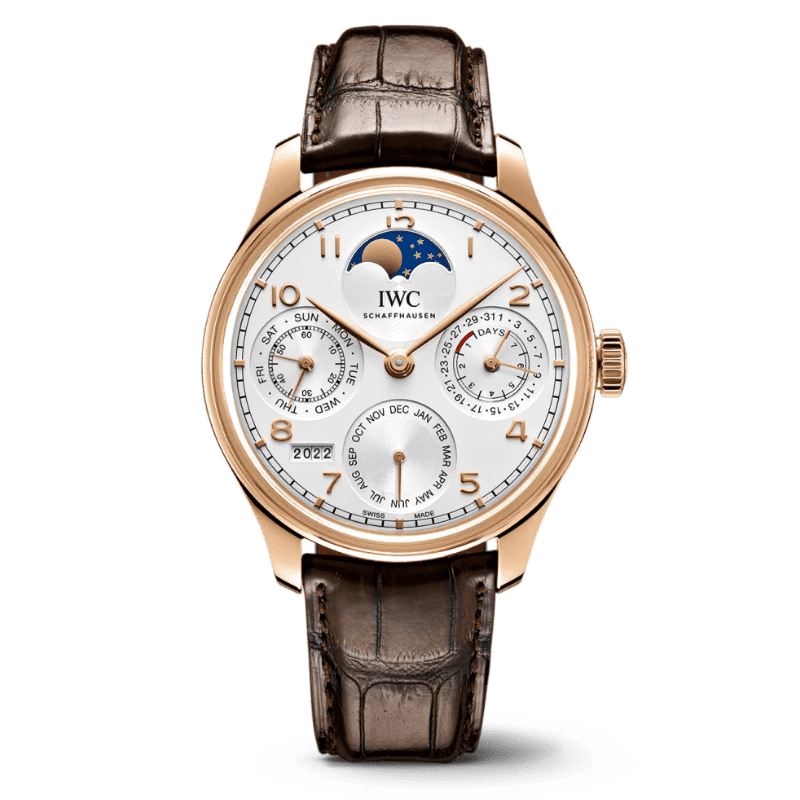 IWC Portugieser Perpetual Calendar Yellow Gold Mens Watch ref. IW503302
IWC is known for making elegant dress watches and that is what they've done and more with the Gold Portugieser Perpetual Calendar. With this watch IWC has really flexed their watchmaking capabilities. Considering all the different complications that ref. IW503302 delivers, this is one of the best priced gold watches on the market.
MSRP: $43,400 | 18k Yellow Gold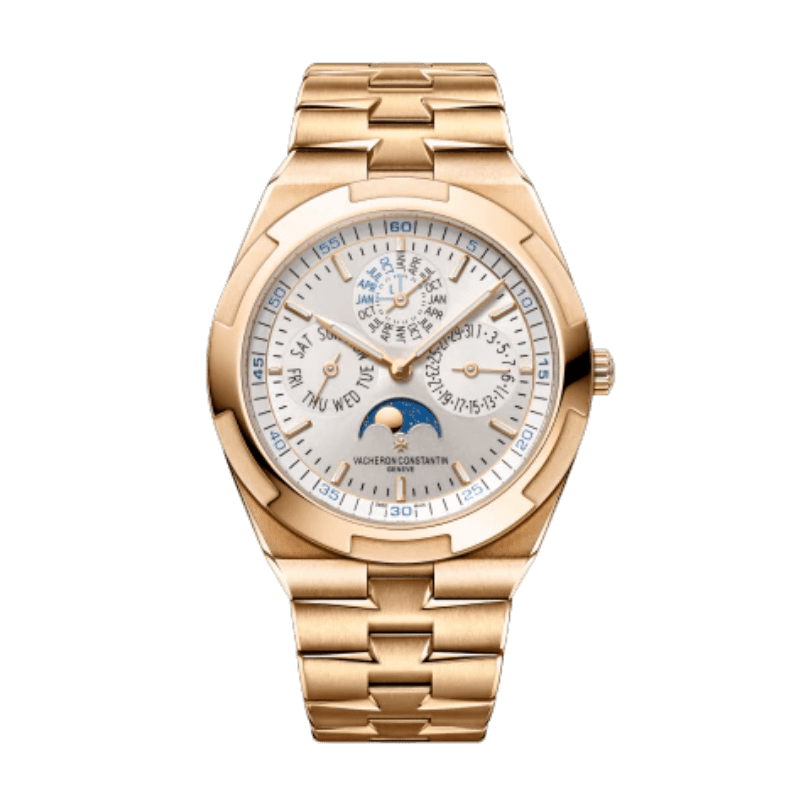 Vacheron Constantin Overseas Rose Gold Mens Watch ref. 4300V/120R-B064
Being part of the "Holy Trinity" of watchmaking means something and that is why the Vacheron Constantin Overseas has made its way into the list of the top gold watches for men. Their perpetual calendar is no doubt expensive but many argue is worth every penny.
MSRP: $102,000 | 18k Yellow Gold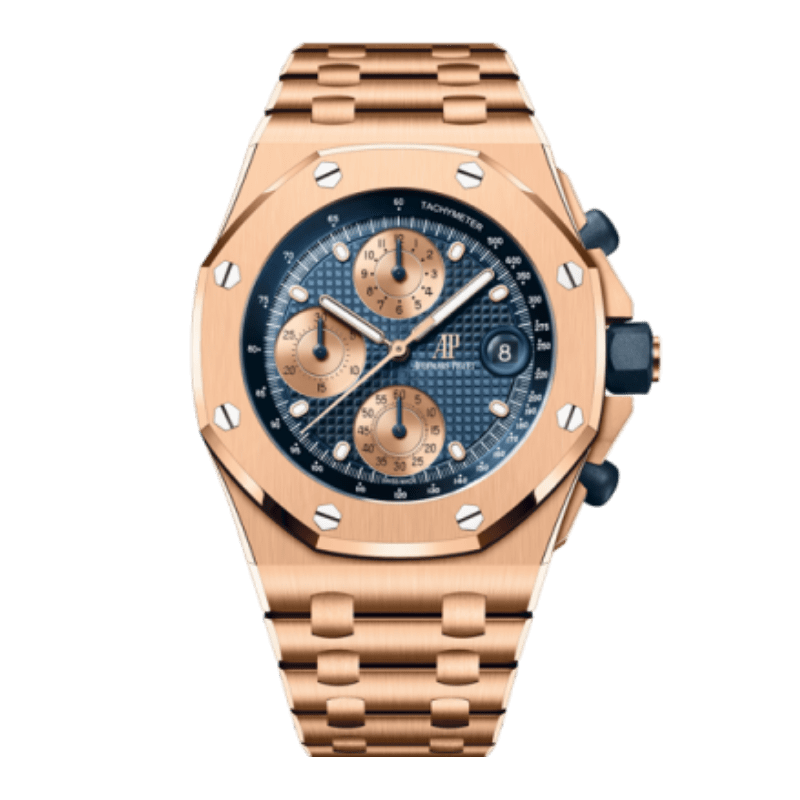 Audemars Piguet Royal Oak Offshore Rose Gold Mens Watch ref. 26238OR.OO.2000OR.01
Once again Audemar Piguet has made its way into a list of the best mens gold watches. The rose gold integrated bracelet, guilloche dial, and superior movement has propelled the Royal Oak Offshore into one of the best gold watches in production.
MSRP: $88,000 | 18k Rose Gold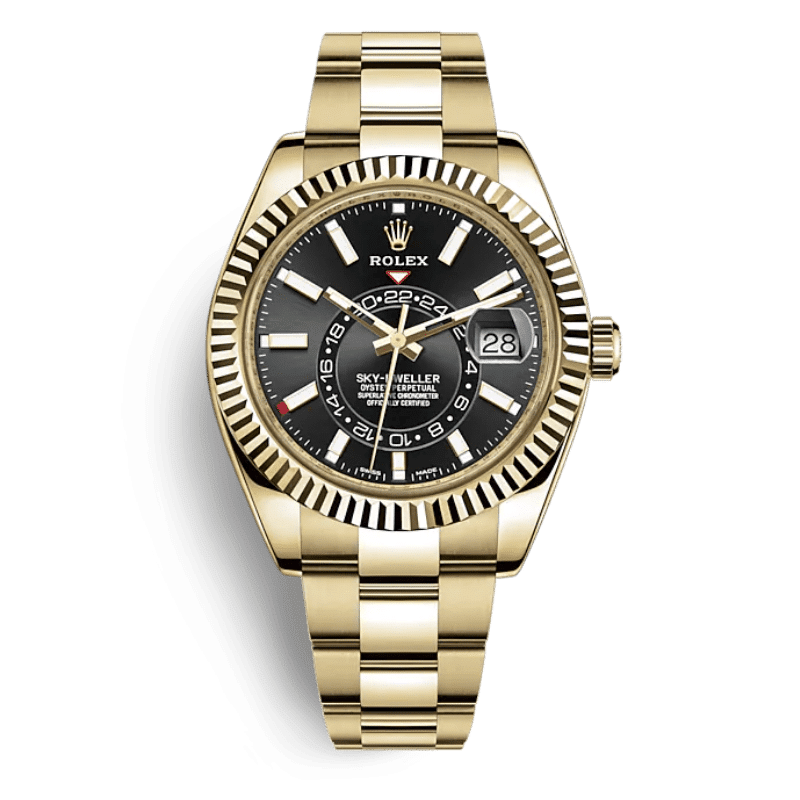 Rolex Sky Dweller Yellow Gold Mens Watch ref. 326938
It almost seems like every gold Rolex should be on this list but some are just better than others. The yellow gold Rolex Sky Dweller is a once in a lifetime timepiece from a brand that arguably does gold watches the best. If you have the chance to buy this watch, you'd be crazy not to.
MSRP: $46,750 | 18k Yellow Gold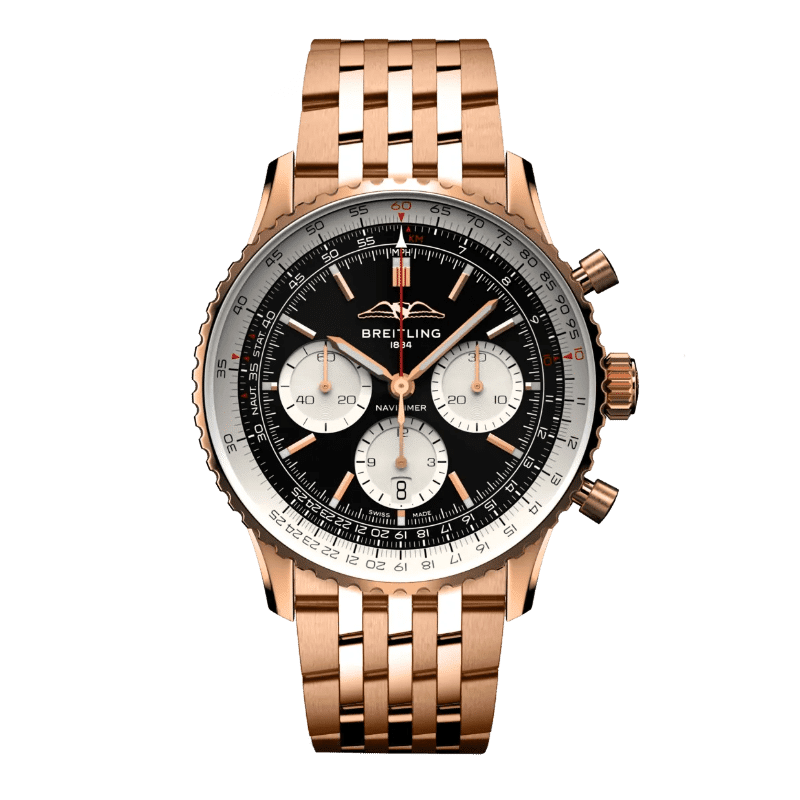 Breitling Navitimer B01 Chronograph Rose Gold Mens Watch ref. RB0138211B1R1
In 2022 Breitling completely redesigned their Navitimer collection and it's safe to say they exceeded expectations. Their use of pink/rose gold on the B01 Chronograph has been perfectly executed and is easily the flagship gold watch of all the Breitling collections.
MSRP: $37,500 | 18k Rose Gold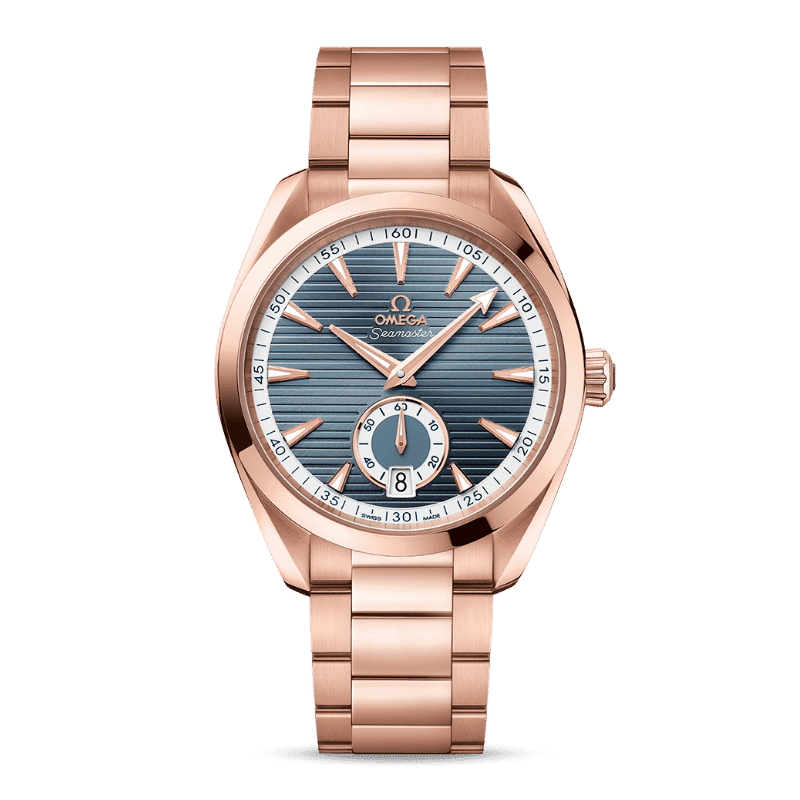 Omega Aqua Terra Rose Gold Mens Watch ref. 220.50.41.21.03.001
Omega has just announced the release of the Omega Aqua Terra Small Seconds collection and has done so with a bang. There aren't many solid gold Omega watches but it appears they have really leaned in on gold with the Small Seconds collection. Personally this is one of our favorite mens gold watches because of the execution of the rose gold and pastel blue dial.
MSRP: $33,400 | 18k Rose Gold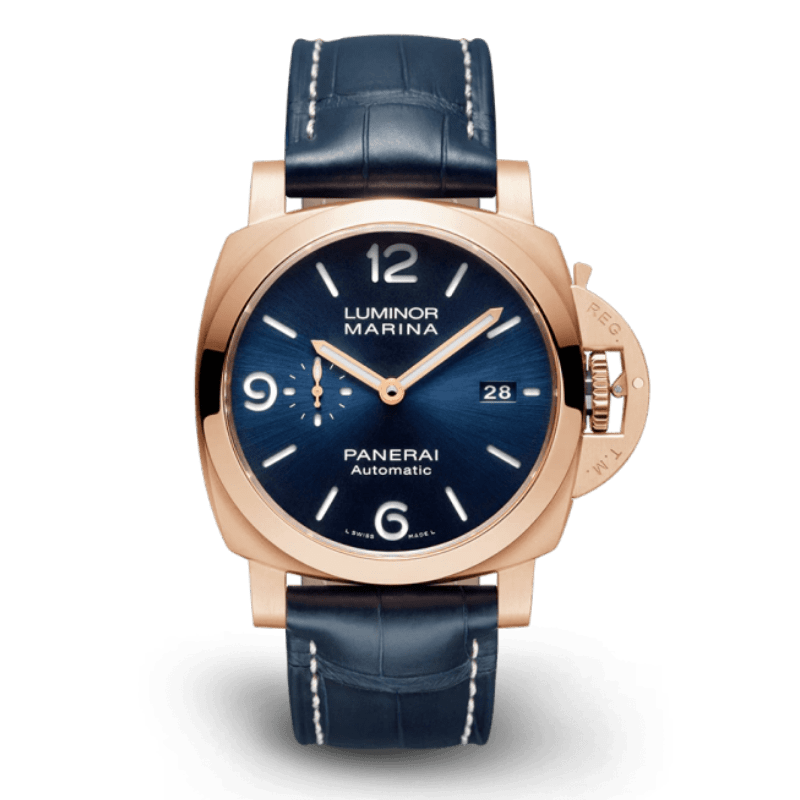 Panerai Luminor Rose Gold Mens Watch ref. PAM01112
The largest gold watch on our list is the Panerai Luminor PAM01112. This watch makes a statement because it's almost impossible to ignore. The beauty of this watch is that it's not the size that makes this watch noticeable, it's the timeless design that has elevated Panerai to being one of the best luxury watches.
MSRP: $24,300 | 18k Rose Gold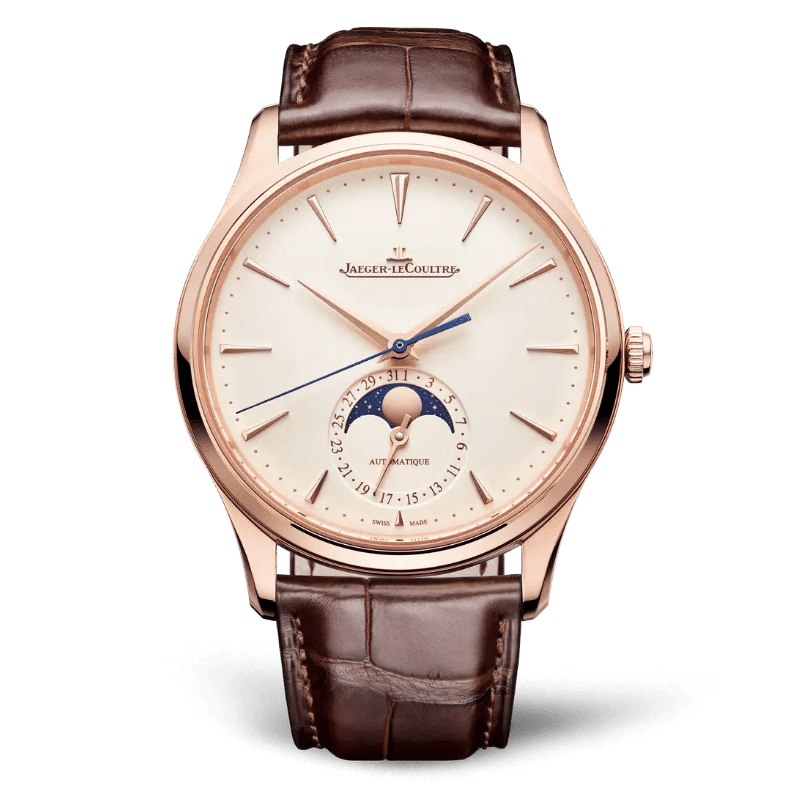 Jaeger LeCoultre Ultra Thin Rose Gold Mens Watch ref. Q1362510
It would almost be impossible to do a list of the best gold watches for men without including the "Watchmakers Watchmaker". JLC, who is often the source for luxury watch movements, executes a simple yet perfect rose gold watch with a sophisticated moon phase complication.
MSRP: $21,000 | 18k Rose Gold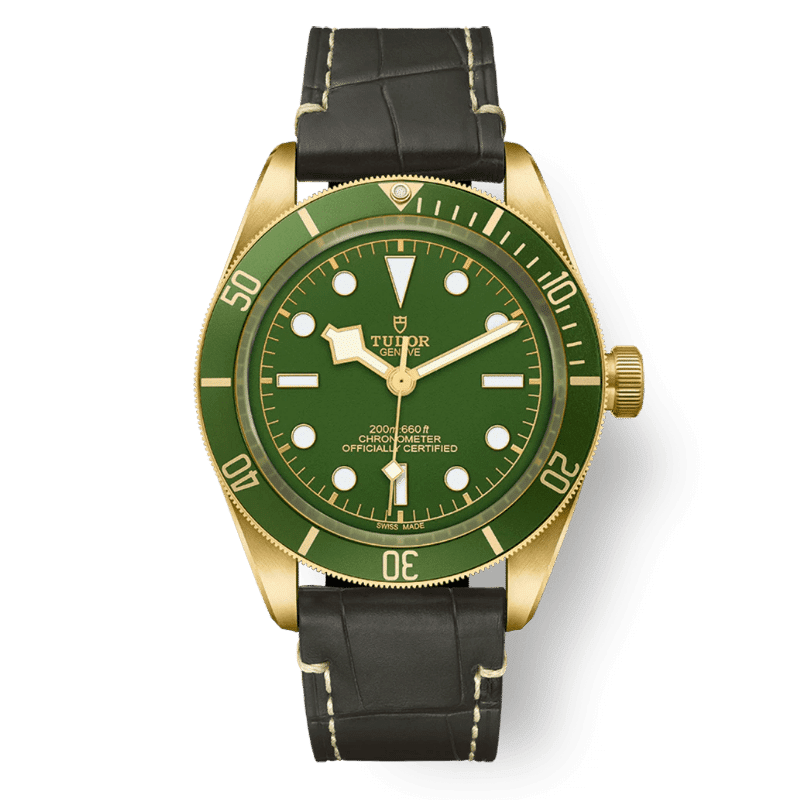 Tudor Black Bay 58 18k Yellow Gold Mens Watch ref. 511.OX.2611.LR
The least expensive mens gold watch on our list is the Tudor Black Bay 58 18k. When this watch was released it surprised many but not us. Tudor is known for making value watches that should cost more than what they do and that is exactly what happened with the BB58 18k.
MSRP: $16,825 | 18k Yellow Gold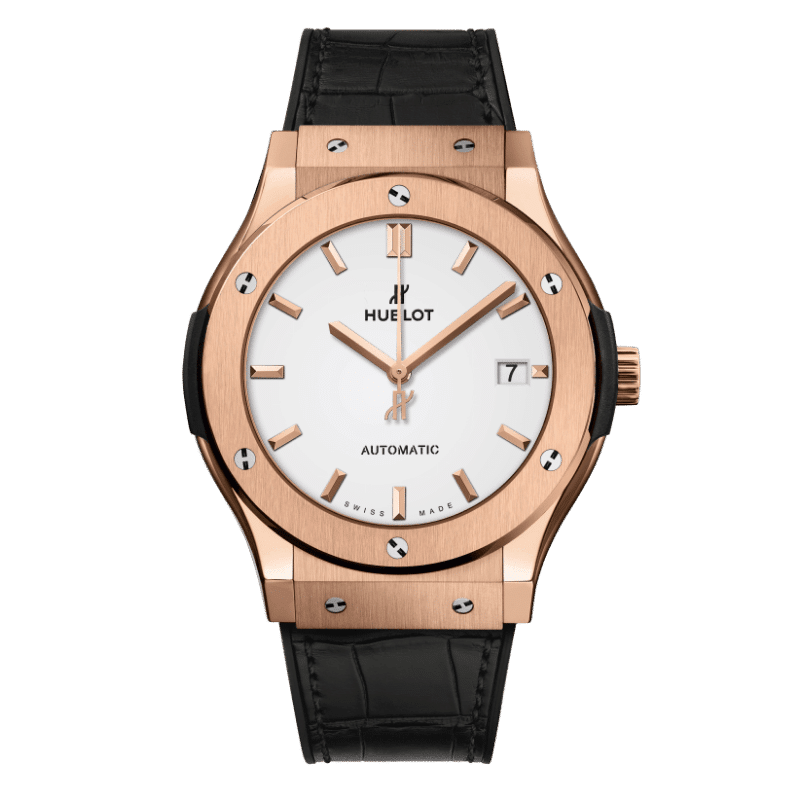 Hublot Classic Fusion Rose Gold Mens Watch ref. 511.OX.2611.LR
This may be controversal but we're including the Hublot Classic Fusion on our list. This watch costs only $26k, now comes with an in-house movement, and has an iconic design that is sure to turn heads. Part of wearing a gold watch is to be noticed and this one will do that and more.
MSRP: $26,600 | 18k Rose Gold