Omega Speedmaster X-33 Marstimer Review
Our journey to Mars has officially begun and it is fitting that Omega will be guiding us on our expedition. The Mission to Mars is quickly approaching and Omega has wasted no time engineering a watch that is perfect for this adventure in every way.
What makes the Omega Marstimer so special is that it is purpose built. The European Space Agency (ESA) worked closely with Omega and provided specs & functions needed to be a part of the Mars missions. The new Omega Mars watch will be commissioned for ESA mission control center employees, ESA astronauts working at the International Space Station, and all future ESA astronauts traveling to Mars.
The features and function of the Omega Speedmaster X-33 Marstimer is what makes this watch special. When we first read all the different calculations & functions the new Mars watch can do, we were overloaded. There are no doubts that the new Omega Mars watch is a pure tool watch built for for one mission, connecting humans with Mars.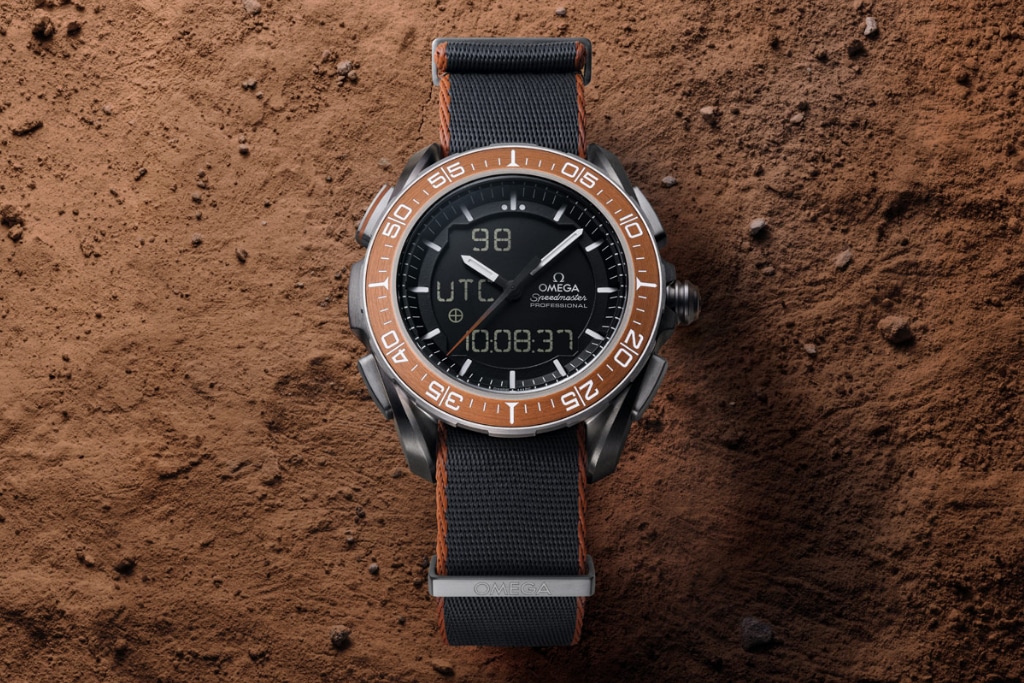 At first glance you'll notice the rust colored bezel. This color matches the surface of the Red Planet which makes this such a cool design element. The next feature you'll notice is the digital dial, which is where you'll control almost all the functions of the X-33 Marstimer. We'll get into more details on this later in our article.
We do want to acknowledge and give respect to Omega on their patience with releasing a Mars watch. Omega could have taken the easy route years ago and created a rust colored Moonwatch but they didn't. They would have sold them all and made a ton of money but they patiently waited for the right time. Omega knew the day would come that humanity would be going to Mars and they saved the release of their Mars watch for when the time was right and when they could get the technology correct.
Will The Omega Marstimer Be The First Watch Worn On Mars
At the moment, the only watch that has been selected by any space agency to make the trip to Mars is the Omega Speedmaster X-33 Marstimer. This watch was selected by the ESA but is likely to be adopted by other space agencies in the future. As of right now we do not know if the Omega Marstimer will be the first watch worn on the moon but we do know that it will be on the mission.
Omega 5622 Movement
Omega had to develop an entirely new movement for the Omega Speedmaster X-33 Marstimer. They had to engineer a movement that could not only handle the rigors of space travel but also track time instantaneously of two different planets. What Omega came up with was the new thermo-compensated quartz calibre 5622 movement. The Omega calibre 5622 movement has some unique complications developed under a patented ESA license. Below we will list all the applications of the Omega Speedmaster X-33 Marstimer and explain in detail.
Martian Time Coordinated (MTC) & Two Martian Timezones
This is the universal time on Mars on the 0° longitude and the ability to track 2 additional timezones simultaneously. These setting can also track how many sols (martian days) since landing on the planet.
Automatic conversions are made with the Marstimer to account for the difference in time during a day and year. As an example, a sol (day on mars) is 24 hours 39 minutes and a year is 669 sols.
Earth Universal Time Coordinated (UTC) & Two Earth Timezones
This allows for tracking of a coordinated time on earth and two additional timezones.
STE / STM – True Solar Time On Earth & Mars
The Speedmaster X-33 Marstimer is able to calculate and display the true solar time between the two planets.
Solar Compass
Can locate true north on both Earth & Mars
Perpetual Calendars Of Both Planets
The date and year will automatically be displayed based on the planet selected in the display.
Mission Elapsed Time (MET)
This application displays the remaining time or elapsed time of a mission.
Phase Elapsed Time (PET)
This application is 3 programable alarms that will go off at scheduled time periods signifying different phases of a mission. This is important when configuring communication with the mars rovers as an example.
Alarms
The Marstimer has 3 programable alarms that can be set at any of the Earth or Mars timezones
Chronograph
Can measure up to 99 hours and can measure down to the hundredth of a second.
Countdown Timer
This function will let the user program a countdown timer to a specific moment in time.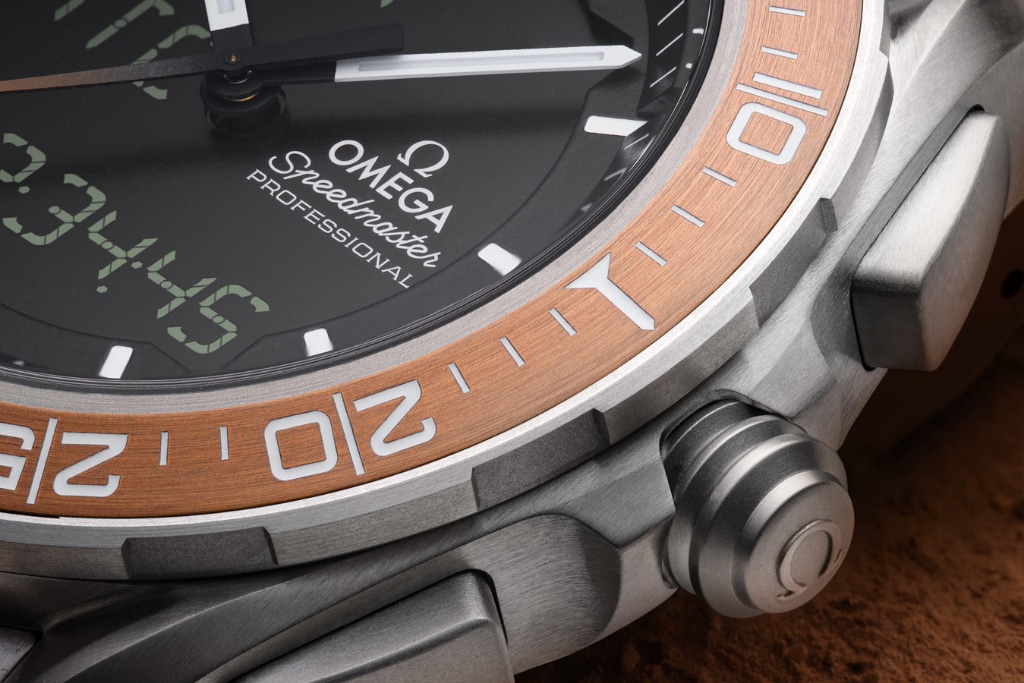 Bezel
Omega has chosen to go with rust colored bi-directional rotating aluminum bezel for the X-33 Marstimer. As we have stated before, this was an obvious choice but the exact color they chose for this bezel was absolutely perfect. Space is dark and Mars is much dimmer than earth. This is why Omega illuminated the arabic numerals on the rust color bezel for easy reading in low light conditions.
Dial
For as much information that the Omega Mars watch displays, the dial doesn't appear too busy. We get a mix of both digital and analog time viewing, purposeful & legible digital display locations, and a brilliantly lit dial when the 8 o'clock pusher is engaged.
It might take some time playing around with the X-33 Marstimer to understand how to display the information you need when you need it. There are lots of settings and functions to navigate. We suggest reading through the entire Omega Speedmaster X-33 Marstimer manual to expedite the learning process.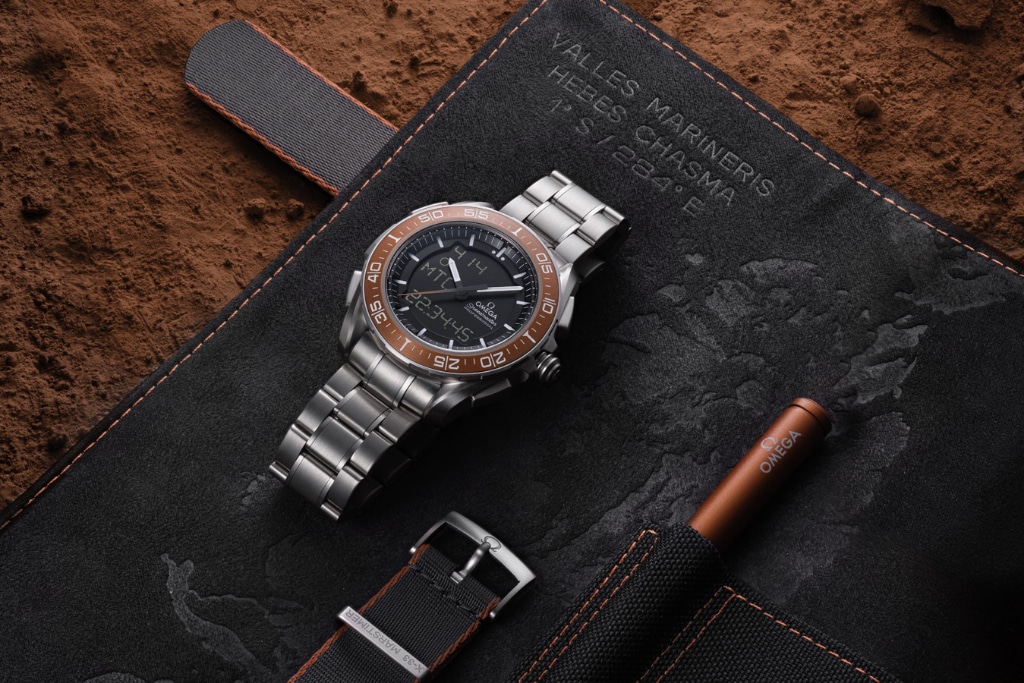 Bracelet
There are two different bracelet / strap options for the X-33 Marstimer. Upon purchase, you'll receive both a titanium bracelet and a nato strap. Immediate feedback from hands-on experiences is that the Marstimer is very light weight considering that its a 45mm watch.
Omega Marstimer Specs
| | |
| --- | --- |
| Case Material | Titanium |
| Case Size | 45mm |
| Water Resistance | 30m |
| Weight | 112g |
| Bezel | Bi-Directional |
| Crystal | Sapphire |
| Movement | Thermo-Compensated Quartz |
| Calibre | Omega 5622 |
| Battery Life | 2 Years |
| Functions | MTC, 2 Mars Timezones, UTC, 2 Earth Timezones, Perpetual Calendars, Solar Compass, True Solar Time, MET, PET, Alarm, Chronograph, Timer, |
Pricing & Availability
The Omega Speedmaster X-33 Marstimer costs $6,400 MSRP and is available for purchase at Omega authorized dealers, on Omega's website, or at Omega boutiques.
Although this is a quartz watch, there is enough value here to justify the $6,400 price point. If you don't know anything about thermo-compensated quartz movements we really suggest to read up on them. There is just as much R&D that goes into them as some in-house automatic movements.
Summary
Overall I'm very excited about the Omega Mars watch. The brand has built itself on the Moonwatch and it's fitting that their future is aligned with the Mars missions. Personally, space exploration is very exciting and knowing that I can wear such high tech watch that will be guiding humanity on it's mission to Mars is a surreal feeling.