Omega Speedmaster Chronoscope Review
In 2021 Omega not only updated the Moonwatch but they also created an entirely new Speemaster, the Omega Speedmaster Chronoscope. The Chronoscope has a 1940's vintage design with the focus being on the three different chronograph scales. These scales include a tachymeter, telemeter, and pulsometer. We'll go into detail what each is used for later in the article.
We were fortunate enough to get hands on with both the blue & black references. A great video of that experience can be found on our Youtube channel.My first impression of the Omega Speedmaster Chronoscope was very favorable. I enjoyed the case size and dimensions, comfort of the bracelet, and the busy but simplistic dial. The execution of including three different chronograph scales on the Chronoscope was perfectly executed by Omega. I would have to say that normal time telling is very legible and the dial does a great job blending in the extra functions. This is especially true for the blue bezel reference.
Check out our hands on video review of 2 of the new Omega Chronoscope watches.
If you are trying to find these watches at Omega authorized dealers, good luck! They are selling quickly and for some references, they are sold before they hit the stores. We want to thank Moyer Fine Jewelers for giving us the heads up when they arrived at the store so we could rush in to get hands on with the Omega Speedmaster Chronoscope.
3 Chronograph Scales Explained
Coming in at 43mm, the new 2021 Omega Speedmaster Chronoscope has plenty of room on the dial and bezel to allow for easy reading of all their scales. The three chronograph scales on the Chronoscope are a tachymeter, telemeter, and pulsometer. If you're wondering what each does and how they work, we've got your back.
Tachymeter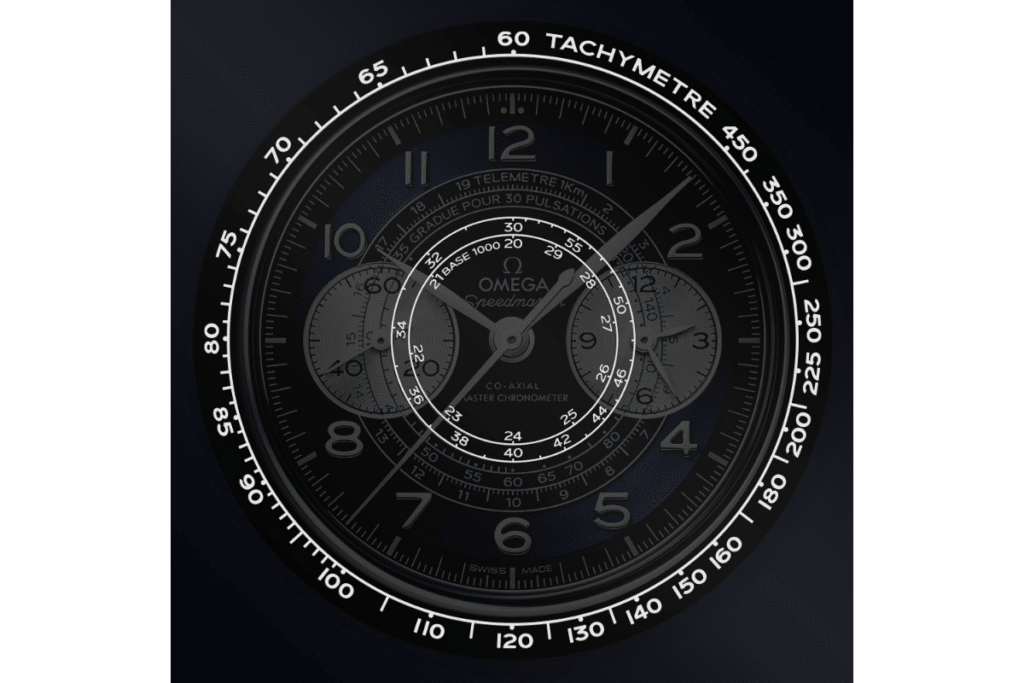 A tachymeter is a scale that is used to measure either distance or speed with the use of a chronograph. Most often used for racing and flight, tachymeters can provide measurements such as avg. speeds, current speeds, projected distances, and time to distances.
Telemeter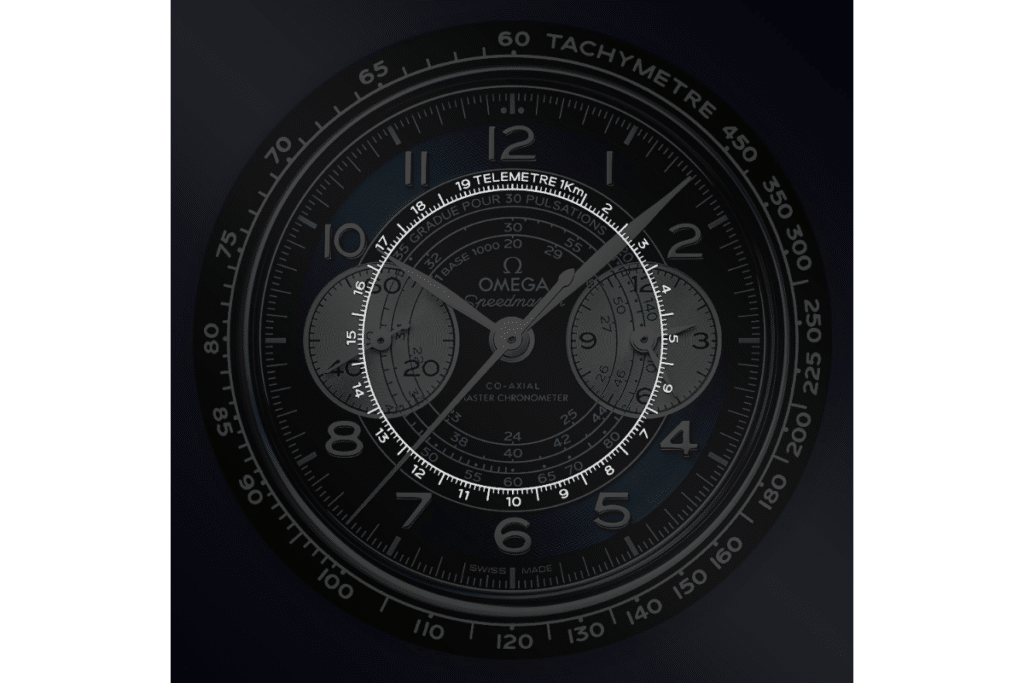 A telemeter is a scale that is used to measure distances with the help of sight and sound. Using a telemeter is very simple. Start the chronograph when you visibly observe an event and stop it when you hear the sound emanating from that event. Where the chronograph hand stops on the telemeter scales is the distance between you and the event. A great example and practical situation of a telemeter is understanding how far away a storm is. Simply start the chronograph when you see the lighting and stop it when you hear thunder. Look down at your telemeter and that is the distance between you and the bolt of lighting you observed.
Pulsometer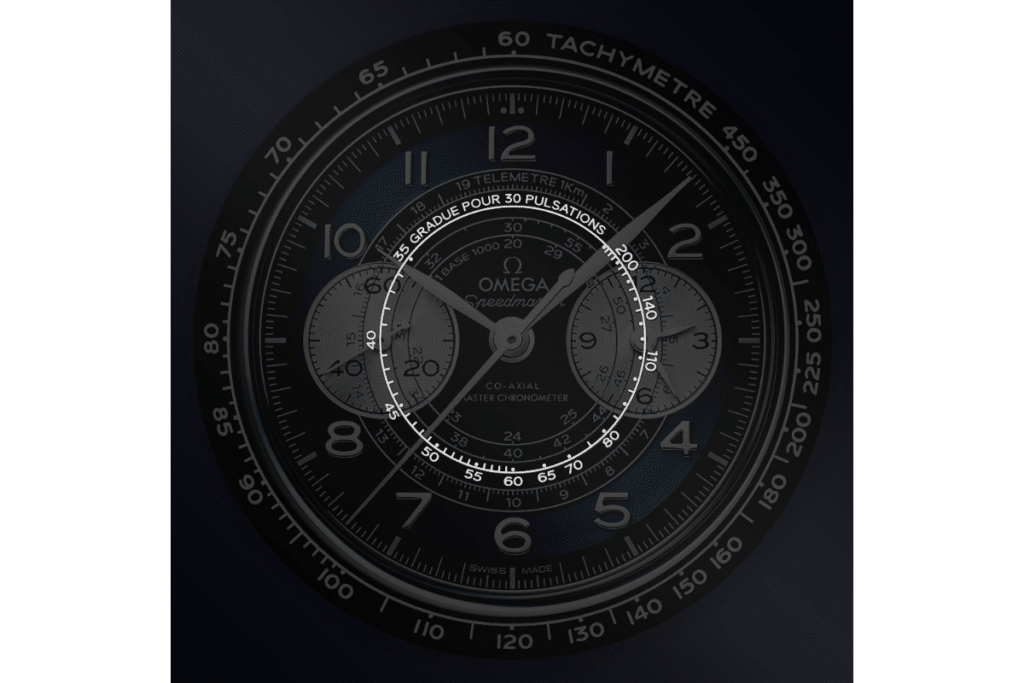 A pulsometer is used to measure a persons heart rate. This is done by starting the chronograph, counting 30 pulses or heartbeats, then stop the chronograph. Where the chronograph hand lands on the pulsometer scale is the patients heart rate.
Omega Chronoscope Master Chronometer Co-Axial 9908 Manual Wind Movement
Omega is elite when it comes to in-house calibre movements. Housed in the new 2021 Omega Chronoscope is the 9908 manual wound chronograph movement. The 9908 is a master chronometer certified co-axial escapement movement. What this means to the owner of this movement is that the 9908 movement is extremely accurate, highly anti-magnetic, durable, and will have a long service interval.
Omega Speedmaster Chronoscope Release Date
The Omega Chronoscope was released in September 2021 and watches started arriving to boutiques and authorized dealers in October 2021.
At the time of the launch, authorized dealers where taking pre-orders and initially there will be a wait to receive the Omega Chronoscope. We expect over time more and more of these models will be available to purchase in the case.
Bracelet & Clasp
There is no lack of comfort when wearing the new 2021 Omega Chronoscope. The master crafted tapered bracelet of the new moonwatch was utilized for this watch along with the smaller and more defined clasp. This is a welcome sight because Omega knocked both the bracelet and clasp out of the park when you judge them on comfort and style. Although Speedmaster enthusiasts tend to wear their watches on nato or leather straps, I doubt Omega Chronoscope owners take the bracelet off.
Omega Speedmaster Chronoscope Pricing & Availability
The Omega Speedmaster Chronoscope hit stores in October of 2021. You can purchase the stainless steel references on the bracelet for $8,650 MSRP. At the time of launch, acquiring one of these watches will be difficult but over time it'll be easier to procure the Omega Chronoscope at authorized dealers.
Omega Chronoscope Specs
| | |
| --- | --- |
| Case Size | 43mm |
| Water Resistance | 50 Meters |
| Crystal | Sapphire |
| Caseback | Sapphire |
| Clasp | Quick Extension |
| Movement | Manual |
| Calibre | 9908 |
| Power Reserve | 60hrs |
| Complications | Tachymeter, Telemeter, Pulsometer, 24hr Chronograph |
Overall Thoughts
I've been labeled an Omega Fanboy, and that could be entirely true. I just find it hard not to like what the brand has been doing and their quality elite. The Omega Speedmaster Chronoscope is no different. Omega has blended vintage with current watchmaking standards and it simply worked. Even at the $8,650 MSRP price point, I still think there is a ton of value here. If you're one that enjoys a chronograph you'll get one with 3 scales, and a 24hr timer, and the accuracy and build quality of what you would expect from Omega.