2020 Breitling Watch Release: The Breitling Superocean Heratige 57
The Breitling Superocean Heritage 57 is part of the 2020 Breitling launch that took the new collections back to their vintage roots. There is no doubt that the Breitling Superocean Heritage 57 has harnessed its original essence all while maintaining a modern flare. Breitling has held out on going back in time to inspire new watches and I for one am glad that they finally did it. The release of the Breitling Superocean Heritage 57 was accompanied by the Breitling Chronomat B01 42 and they 35mm women's Navitimer. These new additions to the current collections all deliver quality designs that in our opinion are more attractive to a wider audience.
If you haven't watched the launch video for the Breitling Superocean Heritage 57, we highly recommend it. What was evident was that there is more to this watch than what meets the eye. Let's dive in, no pun intended and see what the Breitling Superocean Heritage 57 is all about.
View the other recent Breitling release, The Chronomat B01 42.
Breitling Superocean Heritage 57 Historic Design
In 1957 the original Breitling Superocean was launched and that design has propelled the collection to where it is today. Breitling, traditionally an aviation brand, needed to compete in the dive watch craze. Brands like Rolex and Omega where expanding their lines and it only makes sense Breitling would join the mix. Therefore in 1957 the original Breitling Superocean was launched. The re-release of the Breitling Superocean Heritage 57 has done an excellent mixing the old with the new. Side by side with the original, it's easy to distinguish the similarities. Most notably the inverted bezel and the oversized dial features.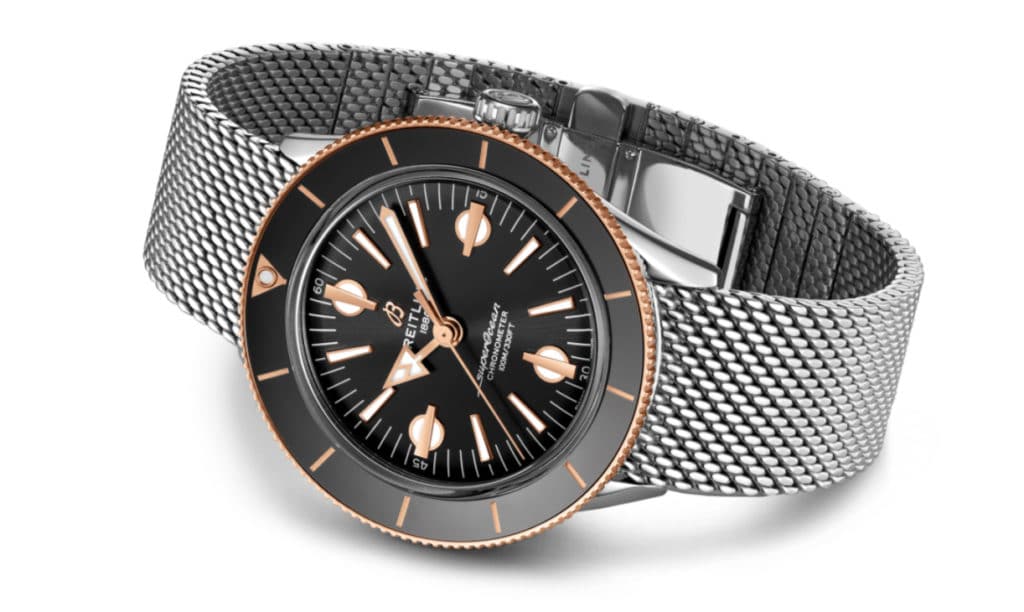 Original Inverted Bezel
Other than water resistance, the most important feature is the bezel. Undoubtably the Breitling Superocean Heritage 57 has delivered a unique divers bezel. Inverted dive bezel aren't new but they aren't common. The original version for the 50's owned the inverted bezel. It might be what originally helped the watch stand out from the rest. The new bezel on the Superocean 57 comes in either a black or blue ceramic bezel. The introduction of ceramic over the original aluminum is a perfect example of improving on the past.
For all those who don't know this already, ceramic doesn't fade in sunlight or scratch when hit. Watches that are meant to be worn in the sun and on the beach, ceramic is a huge upgrade.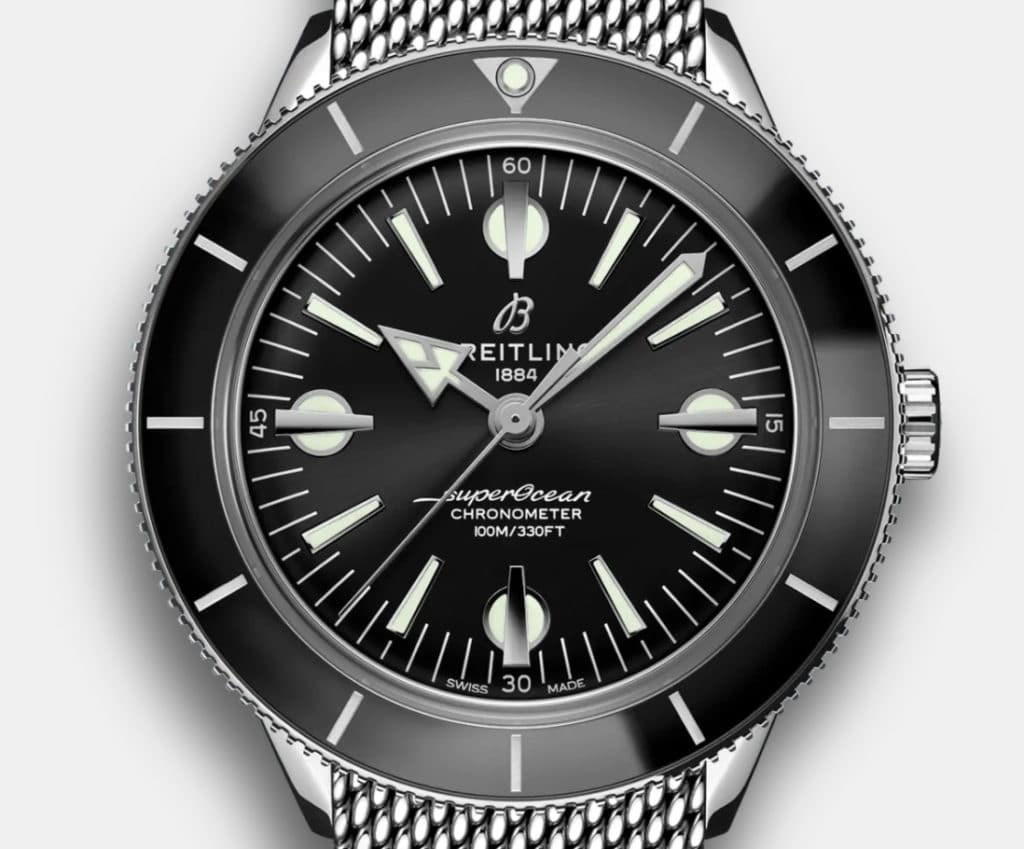 Oversized Legible Dial
Legible dials and dive watches come hand in hand. The Breitling Superocean Heritage 57 isn't any desk diver, it's the real deal. Super luminova makes this watch come to life at night or in the depths of the ocean on both the indicies and large hands.
In the daytime, the overside dial feature also allow for reading at a quick glance. Sometimes the watch community gets away from the basics and dials are more often than not lost in that. It's great to see when a brand sticks with the basics but makes it beautiful. I expect they'll be rewarded greatly by the practical tool watch enthusiasts.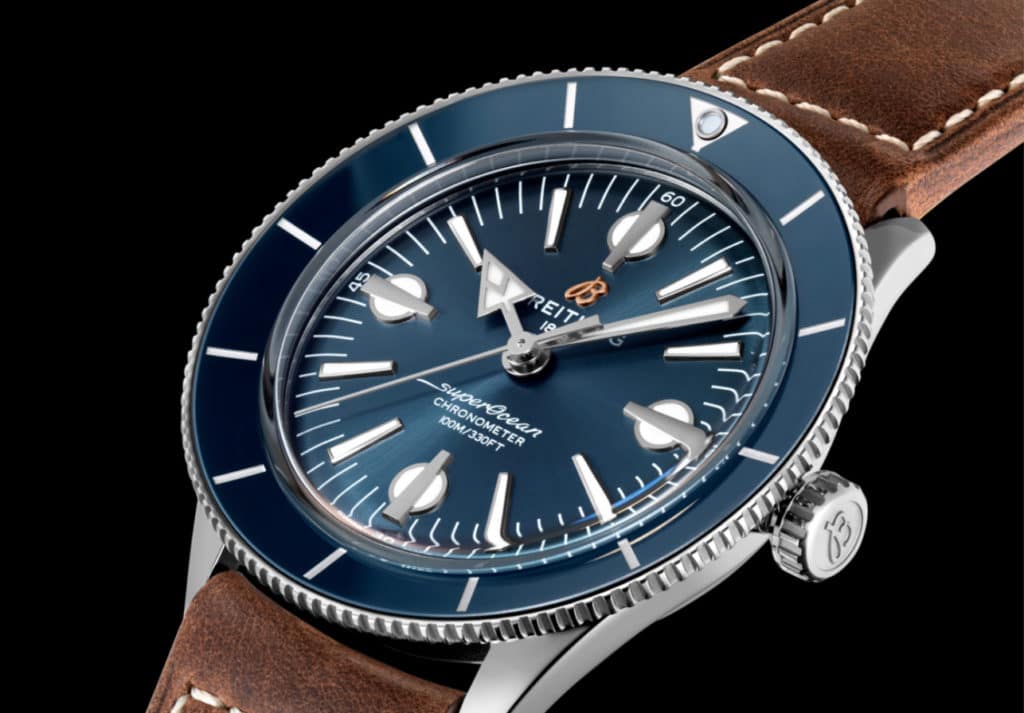 Slimmer Case Design
In the new vintage re-releases Breitling has launched, they've executed on delivering smaller case designs. We've mentioned it already in our Chronomat 57 first look article but we'd like to reiterate it again here. Breitling has gone from watches that mainly larger men could wear to introducing a lineup that can fit most mens wrists or more importantly, preferences. The new slimmer case design for the Breitling Superocean Heritage 57 is designed for everyday wear that can comfortably be worn daily.
The new case design measures in at 42mm. This will fit right in the sweet spot for men with larger watch preferences and also be attractive for men who want to move up in case size.
Movement
Breitling has chosen to go with their modified Calibre Breitling 10. This movement is the workhorse that has powered many other 3 hand Breitlings in recent years. Even though the Breitling 10 is a great movement, we would have preferred to see them go in a different direct and use/develop an in-house movement. It just would have been fitting for a vintage re-release that is being made in a limited run.
Calibre Breitling 10 Specs
Movement: Self-winding mechanical
Power Reserve: 42 hours
Vibration: 28,800 v.p.h.
Jewels: 25
Breitling Superocean Heritage 57 Price
This collection is going to be manufactured in a limited run although it wont be numbered. The Breitling Superocean Heritage 57 can be picked up at a local AD for $4,835 in stainless steel and $5,690 for the two tone.
At this price point, there is tough competition in the dive watch category. Our advise to anyone who is looking for a quality dive watch that wants a unique and original design, go for the Superocean 57. It delivers on all things a diver should and is stunning to look at. We are going to try to get our hands on one of these in future to do a full in-depth review on our experience so stay tuned!