Glashutte Original PanomaticLunar Introduction
Every once in a while, a timepiece emerges from the saturated watch market that embodies excellence in a compelling way. The Glashutte Original PanomaticLunar is one such watch. With its standout moonphase complication and exquisite German watchmaking, this watch sets a benchmark for astronomical dress watches. Its dial strays from the norm, adopting an uncommon layout that pays tribute to Glashutte Original's creative design process. Today, we take you on a journey through this distinctive masterpiece, demonstrating why it is worth considering for your collection.
Watch our full video review of the Glashutte Original PanomaticLunar
Glashutte Original PanomaticLunar Overview
Elegant and sophisticated, the Glashutte Original PanomaticLunar is a timepiece that effortlessly marries tradition and innovation. With a sizable 40mm case available in steel, yellow gold, or rose gold, the watch comfortably asserts its presence on the wrist.
Its captivating dial, punctuated by a visually striking off-centre hour, minute, and second hands layout, is an homage to the signature Glashutte style. The moonphase complication nestled at 2 o'clock captures the allure of the cosmos, the silver moon and stars perfectly contrasted against a night-blue sky. Alongside it is the large date display, another feature which underscores the brand's commitment to functionality and style.
The watch is powered by the automatic Calibre 90-02, a superb example of Glashutte watchmaking excellence, with a 42-hour power reserve. This mechanical marvel is visible through the sapphire crystal case back, revealing a classic three-quarter plate, Glashutte ribbing and double sunburst decoration, a screw balance with 18 weighted screws, and hand-engraved balance bridges.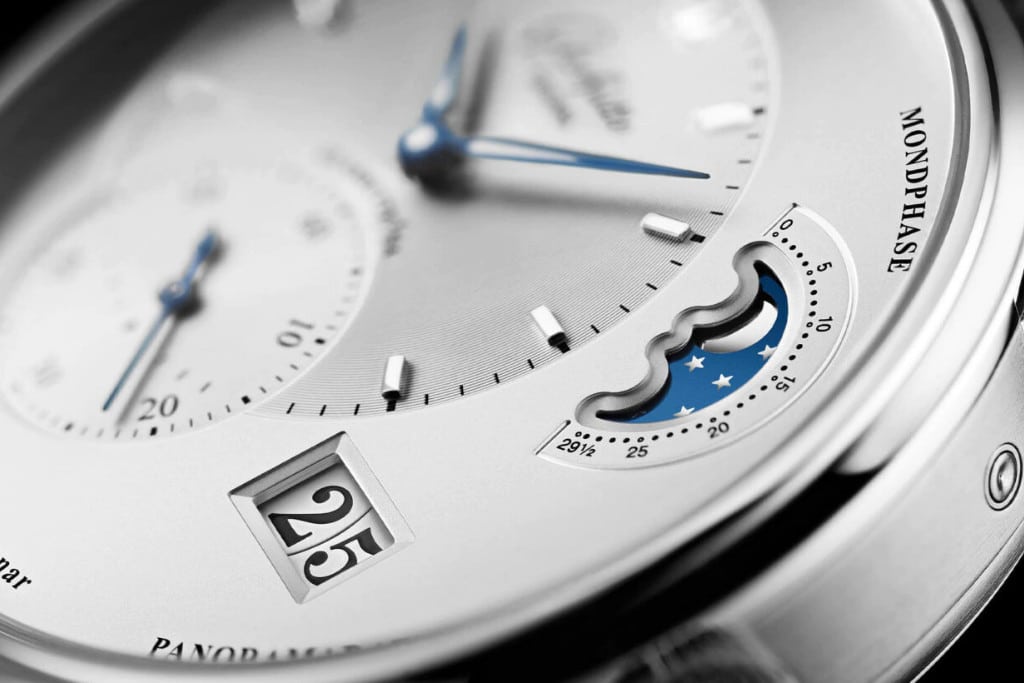 Glashutte Original PanomaticLunar Specs
Case Size – 40mm
Case Materials – Steel, Yellow Gold, Rose Gold
Water Resistance – 50m
Movement – Automatic
Calibre – 90-02
Power Reserve – 42 Hours
Frequency – 4 Hz
Crystal – Sapphire
Crown – Push
Caseback – Sapphire
Pros and Cons
The Glashutte Original PanomaticLunar offers superior overall quality, with a beautiful design that captivates onlookers. Its moonphase complication is not just functional but stunningly rendered, providing a visual feast for the eyes. Adding to its appeal, the decorated watch movement elevates this timepiece to a level of horological finesse.
However, despite its many strengths, the Glashutte Original PanomaticLunar does have a few drawbacks. The legibility of the dial may be challenging for some, especially due to the off-centered layout. The case design, though sleek, may appear somewhat ordinary when compared to other watches in its category. Finally, the power reserve of 42 hours could have been extended to enhance the functionality.
Pros:
Superior overall quality
Beautiful design
Stunning moonphase
Decorated watch movement
Cons:
Legibility can be challenging
Case lacks excitement
Power reserve could be improved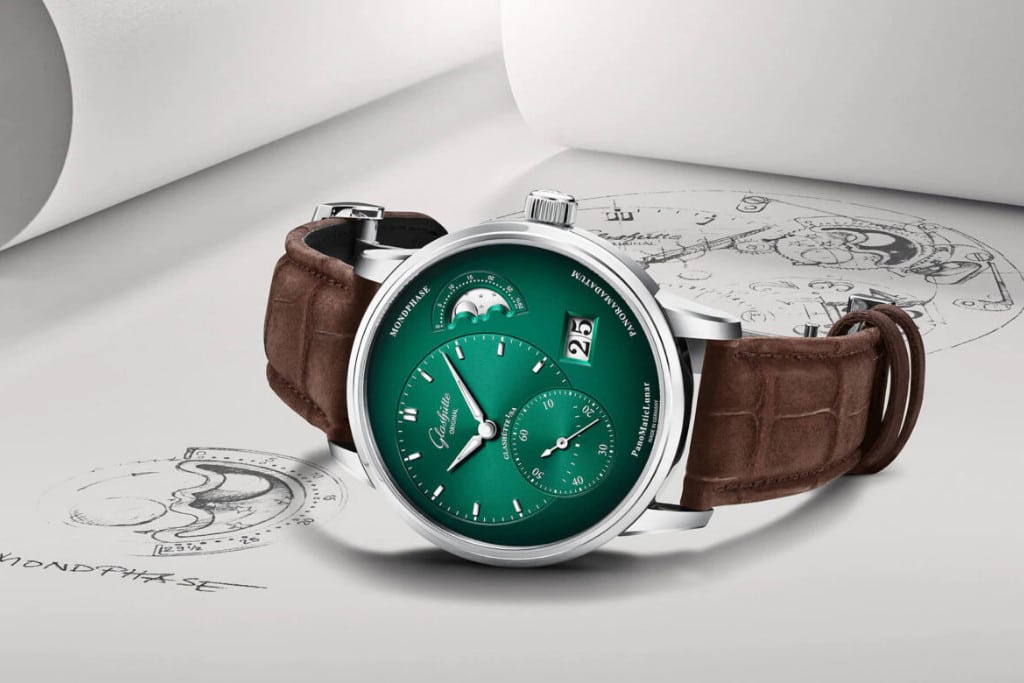 Hands-On Review Of The Glashutte Original PanomaticLunar
Cradling the Glashutte Original PanomaticLunar in my hands for the first time, it became immediately clear why this watch is praised for its quality and design. It exuded an elegance and refinement that photos online couldn't quite capture. Despite an initially complicated appearance, the dial was cleaner than expected, and the watch's meticulous design radiated attention to detail.
The moonphase complication drew my eyes instantly, adding a captivating dimension to the watch face. As I ran my fingers over the case, the steel – cool and smooth – conveyed a sense of solidity and fine craftsmanship that echoed the German watchmaking ethos.
Once I strapped it onto my wrist, the PanomaticLunar felt comfortable, the 40mm size perfect for a dress watch. Every element of this watch seems to have been crafted with an unwavering commitment to quality and precision. Indeed, the PanomaticLunar is a testament to Glashutte Original's dedication to horological excellence.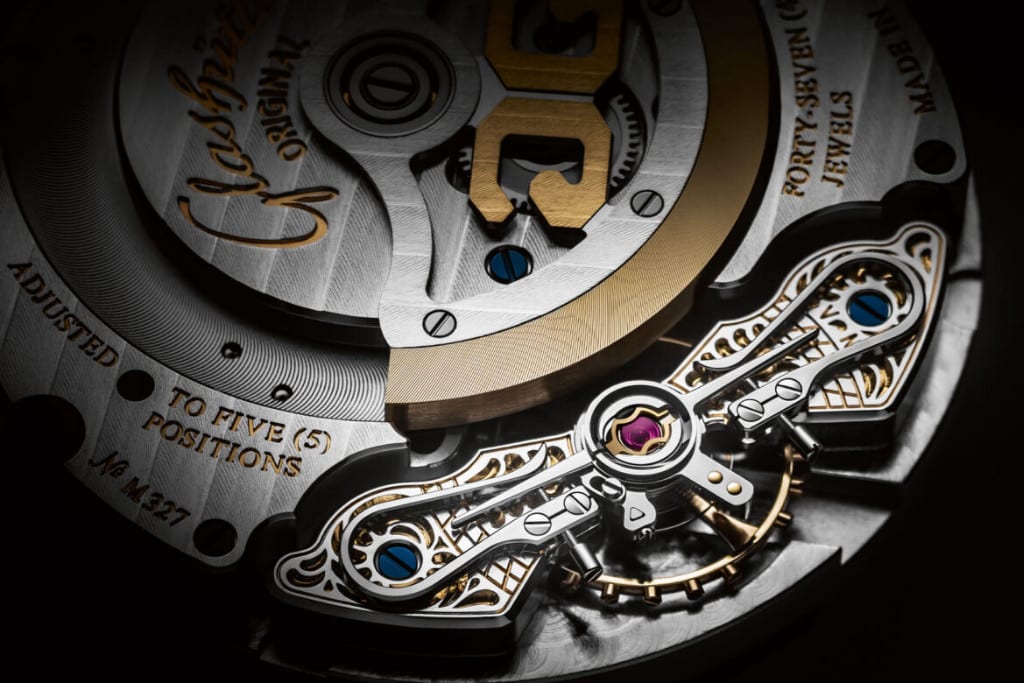 Alternative Watches To Compare
Two notable alternatives to the Glashutte Original PanomaticLunar are the A. Lange Sohn – Lange 1 Moonphase and the Jaeger LeCoultre Master Thin Ultra Moon Phase.
The Lange 1, like the PanomaticLunar, hails from the realm of German watchmaking. It features an asymmetric dial layout with a large date window, adding a unique twist to the classic dress watch. Both watchmaking houses began in 1845 and are committed to designing some of the most beautiful watches in the world.
The Jaeger LeCoultre Master Thin Ultra Moon Phase, on the other hand, is a Swiss made watch that happens to have a moonphase complication and maintains a minimalist design. Although it lacks the distinctive asymmetry of the PanomaticLunar, its elegant aesthetic may appeal to those looking for a more understated dress watch.
Pricing & Value
The PanomaticLunar retails between $10,100 and $21,000, depending on whether it's cased in stainless steel or gold. Considering the quality of craftsmanship and finishing at this price point, it provides great value. It also fares well in the pre-owned market, often retaining much of its original value.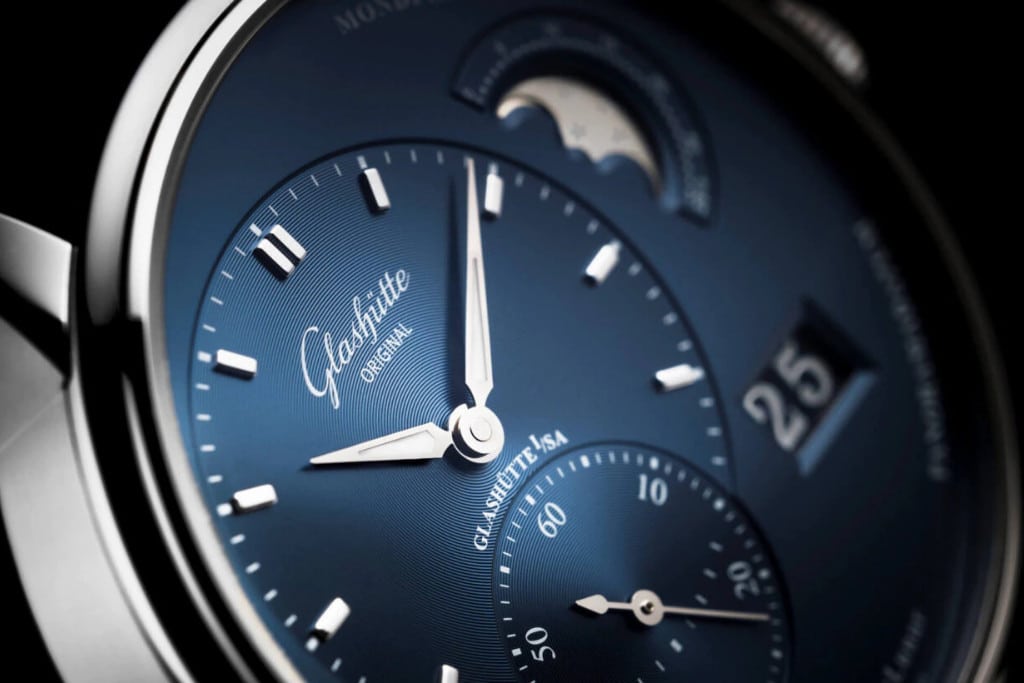 Conclusion
The Glashutte Original PanomaticLunar is an elegant, finely-crafted timepiece that serves as a testament to German watchmaking tradition. Its unique dial design, coupled with the exceptional quality of its build and movement, make it a watch worthy of consideration. The PanomaticLunar's charm is undeniable and worthy of consideration for any watch enthusiast.
Frequently Asked Questions
How much does a Glashutte Original PanomaticLunar cost?
The retail price of the PanomaticLunar ranges between $10,100 and $21,000, depending if the case material is constructed of steel or gold.
Does The Glashutte Original PanoMaticLunar hold its value?
The PanomaticLunar generally hold it's value very well, particularly in the pre-owned market. This is due to the limited production and very high standard of craftsmanship.
How to set the moon phase function on the Glashutte Original PanomaticLunar?
To set the moon phase function, you'll need to use the pusher on the case side. It's recommended to refer to the user manual for detailed instructions.
Is Glashutte a good brand?
Glashutte Original is renowned for its high-quality watches, excellent craftsmanship, and innovative designs. All of these features of the brand is what propels them to the highest levels of watchmaking.